Virtual reality: you've never seen history like this before
Peer through ancient Egypt, Jerusalem and France with goggles on
Full Transparency
Our editorial transparency tool uses blockchain technology to permanently log all changes made to official releases after publication. However, this post is not an official release and therefore not tracked. Visit our learn more for more information.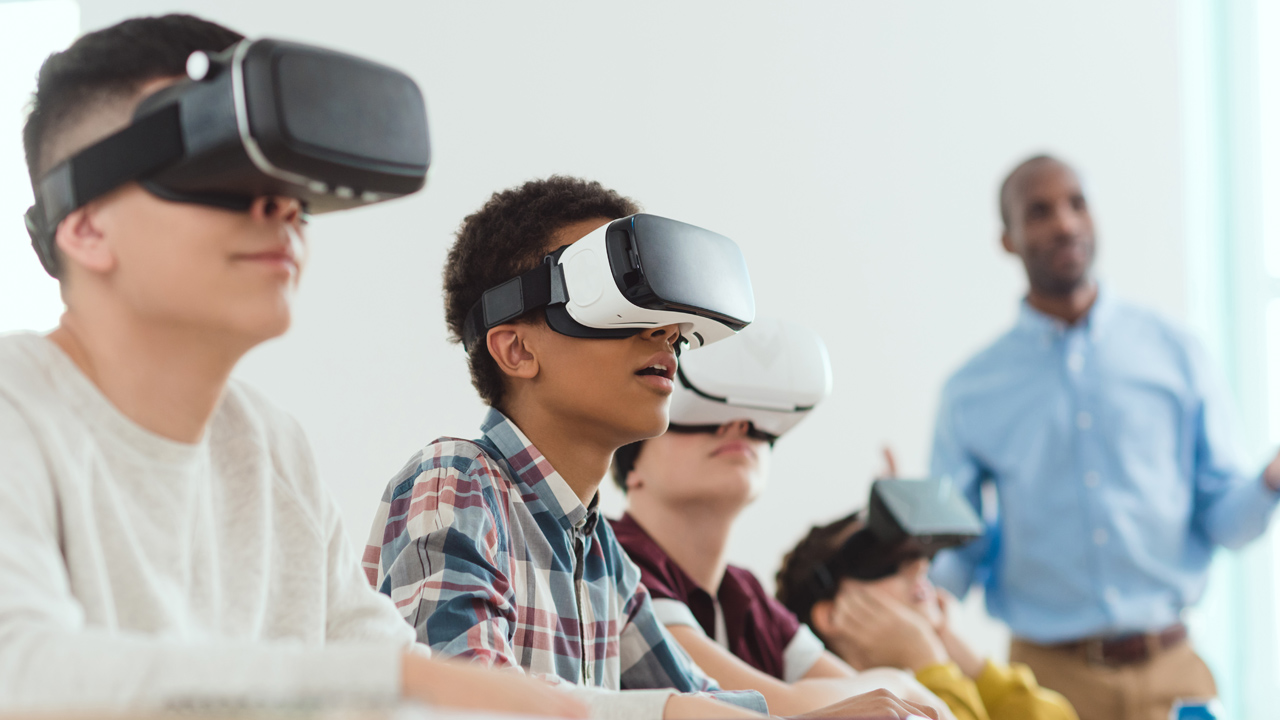 Each fall, a group of 18 Harvard students in Peter Der Manuelian's anthropology class has a unique opportunity: Every week, they "visit" the ancient Pyramids at the Giza Plateau, one of the most famous and important archeological sites in the world, built approximately 4,500 years ago. 
Thanks to 3-D headsets and a curving immersive screen, students are able to explore underground and through hard-to-access tunnels. This "tomb's eye view," as Manuelian calls it, allows students to see locations that they wouldn't be able to without virtual reality (VR) technology. 
Manuelian is the director of the Giza Project, a long-standing partnership between Harvard and the Museum of Fine Arts-Boston to digitize findings from excavations in Egypt. 
"Sometimes, an actual visit to the site is much less telling than accessing the archeological data and 3-D models," says Der Manuelian of VR's ability to enrich history.
With VR, students – including those who enroll in "Pyramids of Giza: Ancient Egyptian Art and Archaeology," a free online course offered by HarvardX – are able to consider the chronology and development of these ancient buildings, including the decisions that were made about layout and how rituals or ceremonies played a role. 
The Giza Project's high-tech adaptation of historical material is just one of example of how VR and AR (augmented reality) are reshaping the ways students relate to history. 
Here are some other jaw-dropping examples: 
The Tower of David Museum in Jerusalem offers guided mobile tours with AR headsets that allows tourists to meander through Old City, viewing first-hand the opulence of various sites under King Herrod's reign 2,000 years ago.
Apollo 11, a VR simulation of American astronauts Buzz Aldrin and Neil Armstrong's historic journey, enable viewers to experience the historic 1969 moon landing.
British history students don VR headsets and "travel" to 20th century France, where thousands of soldiers fought—and died—in the Battles of the Somme, witnessing the toll of World War I firsthand.
As part of history education, VR and AR technology bring the past into the present, sparking learners' curiosity and heightening engagement in a way that doesn't happen through traditional means. 
"When you're reading a book or information on a museum wall or listening to someone speak to you, you learn passively," says Daniel Guttentag, assistant professor of tourism and hospitality at the College of Charleston. A VR presentation at the Charleston visitor's center transports tourists back to a 1950 separate-but-equal case heard in the local federal courthouse. "VR is active and all-encompassing, detaching users from the present and allowing us to feel like we are a part of history." 
VR/AR technology can also make history more inclusive. For example, Monuments have become highly controversial in recent years, as it raises the issue of who's celebrated—and who is not. To balance the scales, Movers and Shakers, an activist arts group that was recently named a winner in the Verizon 5G EdTech Challenge, created urban AR monument tours of the city, to boost representation of marginalized communities, such as women and people of color, with AR statues.  
VR can also give students greater insight to the humanity of historic figures, something that's important for historian Andrew M. Koke of Indiana University-Bloomington. 
Koke created VR content for The American Revolution, a high school history course shot on 360-degree video. 
The American Revolution VR transports students to the middle of the chaos at the 1770 massacre on King Street. Previously, students would have learned about the event by looking at Paul Revere's lithograph of it – a very different experience.
"The historical distance is much easier to bridge with a VR presentation," Koke says. "By having these experiences, figures become more human, a fullness of what we're wanting to reach in history studies. What does it mean to be human?" 
VR and AR applications in history education will continue to evolve, inviting new, expansive questions about research and scholarship. As Manuelian says, the Giza's Project's experience with VR/AR has just begun: "We're constantly trying to visualize the site in new immersive and educational ways." 
Relatedly, if this sparks your imagination for new ways to use technology you may want to check out Verizon's Built on 5G Challenge.
For more information, see:
Charleston's New Way of Teaching
Movers and Shakers NYC Monuments Project
Virtual Reality in the Classroom
For related media inquiries, please contact story.inquiry@one.verizon.com
For more on the Fourth Industrial Revolution, please visit this page.