13-Year-Old Blogger Documents Indy 500 Experience Using IndyCar 14 App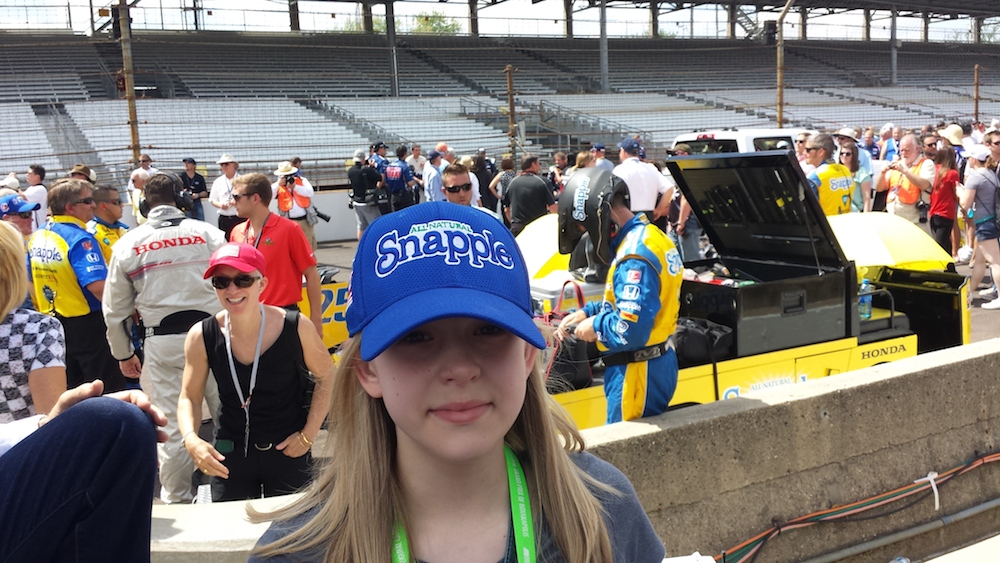 This is a guest post from Kylee Condre, a 13-year-old blogger who loves the Indy 500.
Hello, my name is Kylee Condre. I just turned 13, and I have been blogging about the Indy 500 for four years now. Each year I get a junior garage credential, which lets me enter the garages in Gasoline Alley. That's right – a tweener with a badge. Probably a scary thought for some people.
This year, the credential allowed me access to three new things: admission to practice and qualifications for the new Indianapolis Grand Prix (a whole new race), an opportunity to walk next to the grid before the Grand Prix and a chance to enter the pits for the last practice before the Indy 500.
Here is my daily diary – using the Verizon 4G LTE network and the IndyCar 14 app.
May 9: The first day
While we were in the car on the way to the track, I checked the app to see what I could have done that day, and it was filled with fun things like qualifications and just practicing.
The first thing we did when we got there was go to the garages — my favorite part. While we were there we met Trevor, who works for driver Pippa Mann. While we were talking to him I could hear in the background race cars racing against each other trying to get in that last-minute practice.
When we made it to the grandstand, we finally found the perfect spot to watch the race cars. We saw a driver make a bad turn in Indy Lights practice and lose his car's nose and then slowly make his way to the pits to get it fixed.
After being up there for 15 minutes, a storm was approaching and the people who supervised the stands told us to leave – so we had to walk all the way back down. We raced to the car as fast as we could. I saw the storm, creeping in slowly, stealthily, and then BAM! The storm hit within seconds of getting back to the car.
While we sat in the car, I checked the IndyCar 14 app to see the schedule. Wow, four races in one day? I'm glad I went to the app to see what the schedule was so I could go to all of them.
May 10: Grand Prix day
I woke up that morning around 8 a.m. Before I got ready, I looked at the schedule on the IndyCar 14 app to check the times of the races and if any were postponed by any weather. I had to get ready fast so I could race down to the racetrack and be there in time for all the races – and to find a good spot on the viewing mounds.
As soon as we got there, we set up our folding chairs and then went straight to the concession stand and I got a breakfast sandwich and my grandpa got French toast sticks with whipped cream and a sweet apple butter sauce. Then we went to sit down at the Pagoda Plaza and while we were eating, I looked up more on the IndyCar 14 app for what I might have missed the day before (I was at school for most the day). Then we walked to the fan village and walked around again.
While we were walking, we passed the best hat I have ever seen in the history of hats! It was a Will Power Verizon hat! I went to get it. In our way to get the hat, I video bombed a news broadcast! I almost ran into the news crew.
We decided to go to the Hall of Fame Museum. While we were in there I saw my favorite driver's car: Parnelli Jones' Watson Offy number 98 called "old Calhoun" and his number 40 turbine race car called "Silent Sam." While we were looking at them, the Gordon Pipers bagpipe band came marching in at full volume and one of them winked at me as they marched past.
We then walked along pit lane and passed all the racers' cars. We made it back just in time for the Grand Prix. By the time we got back, the hill was packed with people, and when we first got there, there were only maybe 20 people there. I could barely get into my seat without bumping into people.
While I was listening to the announcer at the beginning of the race, I heard him practically yelling that there was a big crash. And it wasn't just one of those normal "oops my tire fell off of my car, or oops my nose fell off my car." It was three cars and they all crashed into each other. Later on, driver James Hinchcliffe got a concussion when a part flew off car in front of him and struck him in the front of the helmet. Lucky for him, he had a new Zylon band on the helmet that kept it from being worse.
All through the race we followed the standings on the IndyCar 14 app. Since my phone is on the Verizon network, I had a good Internet connection all day. My grandpa's phone isn't Verizon, and he lost his connection a lot.
May 19: Pit walk day
Although I hadn't done a lot this day, I still got to go down into the pits with my father and he showed me all the good places to be when the drivers were practicing.
When we were sitting in the stands later, my dad told me when I wasn't at the track earlier that driver Marco Andretti had crashed his car. I think I want him to win this year and I was heartbroken at first, but then I realized the IndyCar 14 app would have sent me a message saying he couldn't race. I told my dad, "No, the app would have told me!" Then he added, "With you having that app I can't fool you anymore!"
Thank you Verizon and IndyCar 14 for making this such a great experience! And thanks to Doug Boles and Mark Miles for adding three great experiences to the junior credential package this year.
For more Verizon Wireless news, subscribe via RSS feeds in the right rail.