Angela Cain From WTHR in Indianapolis Receives Domestic Violence Education Award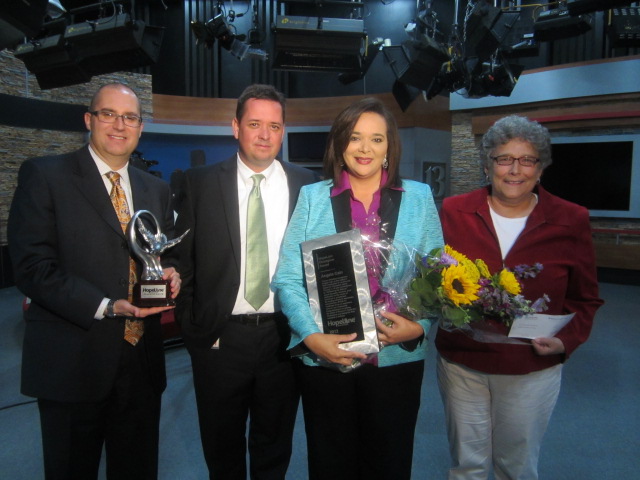 Left to right: WTHR-TV News Director Keith Connors, Verizon Wireless Sales Director Patrick J. Lewis, WTHR-TV Community Affairs Director Angela Cain (award recipient), Domestic Violence Network Executive Director Julie Marsh
For 10 years, Angela Cain has been "Shattering the Silence" about domestic violence issues in Indianapolis. Today, we recognized her work with a HopeLine Champion Award recognizing her commitment to programming and public education on the issue. She is the first broadcaster in the nation to be recognized with the award.
Angela, the longtime community affairs director for WTHR-TV (NBC), was surprised with the award after just finishing her noontime broadcast. She was joined by a small gathering of colleagues from the newsroom and the station's news director, Keith Connors, when the award was presented by Patrick J. Lewis, director of sales for Verizon in Indiana, Michigan and Kentucky.
She noted that the work she does would not be possible without the assistance of companies like Verizon Wireless. Patrick also presented a $1,000 check in her name for a donation to the Domestic Violence Network – which has also been a recipient of grant support from Verizon and our foundation. Through her tears, Cain said the recognition – both for herself and the station – "made my day." WTHR will also be airing a half-hour documentary on domestic violence in October during Domestic Violence Awareness Month. WTHR-TV's "Shattering the Silence" fund, managed by the Domestic Violence Network in Indianapolis, raises money for healthy relationship programs for schools and youth agencies. A number of groups that receive support from the fund have provided healthy relationship education training for 61,422 students living in 12 counties attending 145 schools. For more Verizon Wireless news, subscribe via RSS feeds in the right rail.