Smart Semester: Best Gadgets For College Students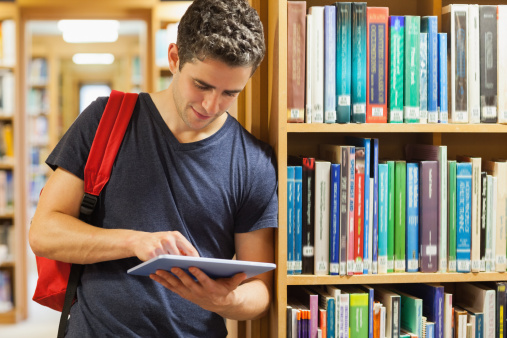 This is a continuation of our ongoing college series, "Your Smart Semester: Technology 101." We invited Ali Hendricks, a Butler University student, to spend a little time with technology and give us her college take. Today, Ali is talking about the best gadgets for college students.
Verizon Wireless is really on top of the gadget game, if you ask me. You can walk into any given retail store and find all kinds of things to make using your phone or tablet more fun or efficient. I bet you didn't even know about some of them.
While walking into a store filled with new gear can be fun, it can also be intimidating. I mean, which of the gadgets are really worth it? Well, I would venture to say all of them have some value, but in order to help you go into the store with a game plan next time, I talked with some experts in college town stores. I asked them which are the most popular and best gadgets for college students. Here's what they had to say.
Indiana University in Bloomington, IN
First on my list of interviews was Nick Doherty, who's based at the store near the IU campus in Bloomington. I figured working at a store that services a campus with more than 40,000 students makes Nick pretty knowledgeable about which products college students are interested in right now. Luckily, Nick didn't disappoint. His top two picks were these: The Mophie Juice Pack and the Jawbone JAMBOX Bluetooth Speakers.
Purdue University in Lafayette, IN
Next was Ance Phillips, who works in the store that serves Purdue in Lafayette. Ance echoed pretty much everything Nick said and more. Apparently IU and Purdue students think alike. Wait, did I say that out loud? Anyway, he said his store also sells a lot of Mophie Juice Packs, but the speaker he sees flying off the shelves to college students is the less expensive Logitech UE Mobile Boombox. Ance said he has also seen college students picking up the new iPad Mini.
Indiana State University & Rose-Hulman Institute of Technology in Terre Haute, IN
Last on my list was David Scott, the manager at the store closest to both Indiana State University and Rose-Hulman Institute of Technology (where the smarties attend one of the best engineering schools in the nation). David also mentioned the Mophie Juice Pack, the Jawbone JAMBOX and the iPad, but added the Beats Wireless Headphones by Dr. Dre to his list for top student picks.
Here's what I gathered from my interviews with Verizon's tech experts who work with college students every day: College students want their phones to be charged, they want to be constantly plugged in and they like to listen to music.
If you're like the students attending any of these great Hoosier colleges and universities, now you know which Verizon Wireless products are the best gadgets for college students!
By the way, if you need a brush-up on all the cool things your phone or tablet can do, check out Verizon's Wireless Workshops. Chances are you can find one near your campus (or maybe even online).
Check in every Thursday as Ali provides tips on various apps, buying trends, assorted technology for college students and more.