Best Gadgets For New Moms From a First-Time Parent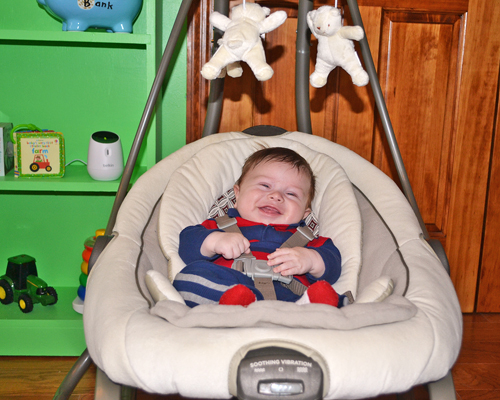 This is a guest post from Dr. Marybeth Feutz, a large animal veterinarian, cattle farmer, pet owner, grocery buyer, and a new mom. She and her veterinarian husband practice at the Princeton Veterinary Hospital in Princeton, IN. She blogs about life on the farm at Alarm Clock Wars and about all things food and farming at AgriCultured.
I'm a brand new mom. Just a year and a half ago, I couldn't even consider that I would one day be a mom! I was overwhelmed just at the thought of heading into a baby store to get a few gifts for baby showers. My stories about our family on Alarm Clock Wars were all about the four-legged, furry kind of family members.
Well, things changed for me pretty quickly, and Verizon Wireless was there to help! Based on my experience, I wanted to share what I think are the best gadgets for new moms.
Baby Doc and the WeMo Baby Monitor
During the end of my pregnancy and after we welcomed Baby Doc to our family, I used the FitBit Flex activity tracker. This slim bracelet was easy to wear, and the activity tracker was very easy to set up. A few taps of the bracelet and I could get a quick view of how close to (or how far from) my activity goal I was for the day.
The app on my phone quickly gave me a few more details (like the number of steps I had walked and how long I had been asleep). Logging into the FitBit website gave me even more information. My favorite part was the sleep tracker. Late in my pregnancy, I wasn't sleeping well (no surprise there). I was awake frequently, tossing and turning. My sleep efficiency was only 89%.
I wasn't sleeping that well at the end of my pregnancy.
After Baby Doc was born, that all changed. No longer was I getting seven or eight (and sometimes nine) hours of not-so-great sleep. Now I was getting sleep in much smaller chunks of time, but I was way better at it! Check out that 100% sleep efficiency! Dog tired? I say new-baby-in-the-house tired!
I wasn't sleeping much after Baby Doc was born, but I was making the most of every bit of sleep I did get!
I also have been using the WeMo Baby Monitor by Belkin. This audio monitor was very easy to connect with an iPhone 5c. This was the only way I was able to take a (somewhat) relaxing shower in the first few weeks after he was born! The only place he would sleep during the day was in his swing in the living room. So I turned on the monitor, brought the iPhone into the bathroom and was able to keep an ear on the little man while I was in the shower. No keeping the door cracked open and no sticking my head out of the shower every few minutes to listen.
The app was very easy to use. I loved that I could add his name and a photo of the little guy. There is a feature to filter out some of the background noise, so I didn't have to listen to the ticking of the swing all the time. The audio scale let me know how loud he was being, even if I had the volume on the phone turned down. And, trust me, he got plenty loud!
The WeMo Baby app for the iPhone is very easy to use.
The monitor was also very easy to move from room to room when I needed to. All I had to do was unplug it, move it, plug it back in and wait a few moments for it to start back up. No buttons, no resetting - just plug and play!
So. Motherhood. Not so easy. But it's so much fun (most of the time), and totally worth it! And Verizon Wireless definitely has some great devices that can help a mom out!
What's your experience with using technology as a parent? What do you think are the best gadgets for new moms...and dads?
For more Verizon Wireless news, subscribe via RSS feeds in the right rail.