Broadcasting Live at ConGlomeration 2014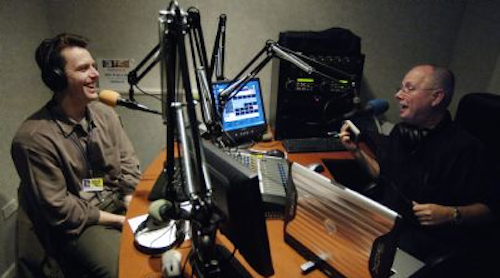 This is a guest post from Michael Kastler (@TechTalkWRLR), host of TechTalk Radio in Chicago.
For the last 9 years, TechTalk on WRLR 98.3 FM in Chicago has aired on Saturday mornings at 10 a.m. with topics spanning gadget and device tips, tech business news and regular interviews with the most interesting people we can find in the technology, science and geek world.
Setting up for a live radio show can be a hassle; audio boards, mics, headsets, scheduled and impromptu guests - it all takes a lot of time, effort and preparation. When you're doing it more than 600 miles from the broadcast tower, can't count on a solid connection AND the word "technology" is right in the name of your show, it's even more stressful!
Recently, we had the privilege of being the Media Guests of Honor at ConGlomeration 2014. Held in Louisville, it's one of the Midwest's largest sci-fi, fantasy and gaming conventions. Lined up for us was an all-star cast of guests, including sci-fi icon David Drake, author and NASA researcher Dr. Les Johnson and the inimitable filk duo "Ookla the Mok"!
While at the show, we needed to do two things: Record some great interviews, and get those interviews out live to the tower in Illinois. To accomplish this, we had a total of one sound board, three mics, two headsets, two laptops, a tablet and a rock solid Internet connection back to home base using Verizon's Droid Ultra with 4G LTE mobile hotspot technology. Anyone who's tried to get an Internet connection at a conference knows your options are typically either very expensive or completely non-existent. With the Verizon mobile hotspot, we were able to connect where and when we needed to, without relying on anyone else's WiFi or wired setup.
When all was said and done, representing WRLR 98.3FM live at ConGlomeration 2014 was a huge success. We broadcast live audio without a hitch thanks to the Droid Ultra's mobile hotspot, pulled off some fascinating interviews and got to hang out with tons of our fans - both old and new ones! Not only that, but with all the pacing and walking from booth to table and back, my Fitbit tracked its highest one-day total yet at more than 17,000 steps … which made me feel at least a little better about indulging in all that local Kentucky food and drink!
A recording of the live broadcast from Louisville is available here. Part two, a pre-recorded set of interviews that did not go live, is available here. Catch up on our back catalog of podcasts and become a regular listener of the show at the official TechTalk blog and website.
For more Verizon Wireless news, subscribe via RSS feeds in the right rail.