Charitable Challenge Empowers Verizon Team Members to Give Back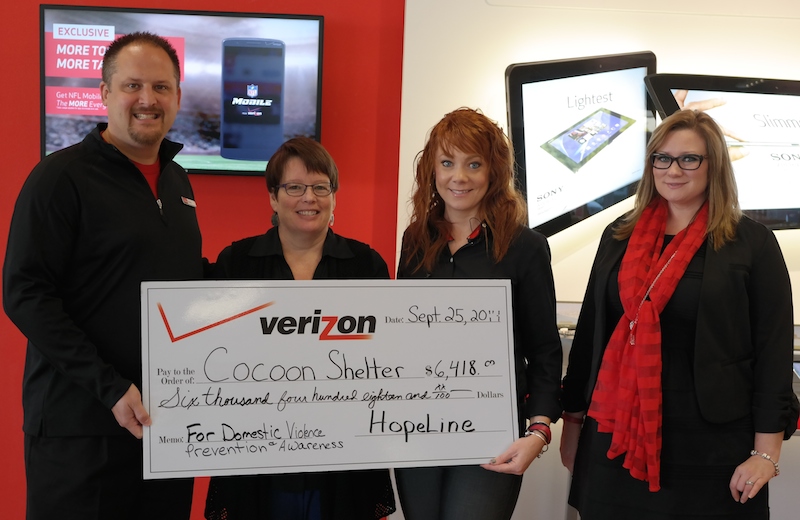 Pictured from left to right: Travis Lattimore, District Manager, Verizon Wireless; Michelle Clossick, Executive Director, Cocoon Shelter; Kayla Jo Howell, General Manager, Verizon Wireless; and Ruth Goeller, General Manager, Verizon Wireless.
What does it mean to be an employee at a corporation that serves more than 104 million customers? At our company, it means one can get passionate about community members in his or her own backyard. At Verizon Wireless in Northwestern Ohio, several employees are doing just that.
Verizon Wireless district OP18 (including Bowling Green, Defiance, Findlay, Fremont, Lima East, Lima West and Sandusky), initiated a competition for a district spirit award this summer, which included a Charitable Challenge.
As part of the Charitable Challenge, each of the seven locations selected a preferred charity. The teams then had two weeks to gather donations from friends and family and add in their own personal contributions. Overall, the OP18 teams achieved outstanding results by raising more than $4,100 total for all the charities they selected. And they did so by keeping the words of our Credo top of mind: We are good corporate citizens and share our success with the community to make the world in which we work better than it was yesterday.
The winning Charitable Challenge team from Bowling Green collected $1,418. We matched this donation with a Verizon Wireless HopeLine grant, bringing their total philanthropic funds to $6,418.
Recently, our Bowling Green employees presented the donation to Cocoon Shelter, a local nonprofit that provides advocacy, counseling and other services to help domestic violence victims rebuild their lives.
Bowling Green District Manager Travis Lattimore was thrilled with the outcome and proud of his hard-working, community-oriented team.
"I was humbled by the response to this small challenge and am ecstatic about the impact to come for our communities. This really is an outstanding story of our Credo in action," he said.
The Cocoon Shelter donation is part of Verizon Wireless' national HopeLine® initiative, which supports victims of domestic violence. Developed in 2001, Verizon Wireless' HopeLine program helps domestic violence victims in Bowling Green and across the country by providing cash grants to help nonprofits fund education, programs and support services. Through HopeLine, we collect no-longer-used wireless phones and accessories, recycle them and put phones with free voice minutes into the hands of domestic violence victims as they rebuild their lives.
Throughout October's Domestic Violence Awareness Month, we will also donate $3 from the sale of our purple accessories – up to $50,000 – to the HopeLine program.
For more Verizon Wireless news, subscribe via RSS feeds in the right rail.