Children and Social Media: How to Monitor Mobile Activity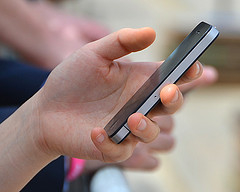 If children are vulnerable to predators online, there's only one way to stop it – parents need to be regularly reviewing and knowledgeable about the social media their children use on any kind of mobile device. Hamilton County Detective Alex Petty, a father of four, knows the challenges busy parents face, but checks his kids' Twitter, Instagram and Facebook pages routinely.
"Kids are everywhere online these days – Kik Messenger, Instagram, textPlus. You need to be aware of where they are and who they're talking to all the time."
In Hamilton County, one of the fastest growing population regions of Indiana, the sheriff's department is hosting a special forum just for parents. We are also bringing devices to the event for parents to learn more about affordable services like FamilyBase for just $5 a month or free call, message and Internet blocking.
Detective Petty said parents are often fearful of reporting inappropriate or questionable contacts made online over social media to a child, but it should be a parent's first consideration. "Children are often trapped in these social media networks and vulnerable. They want to be liked. When I get a report, we want to find out who it is, who they are and where they live."
Parents can take quicker steps to check on children and social media activity:
Know all the passwords to a child's social media accounts, including any lock passwords for a phone.
Check all devices regularly – once a month or so – and check on the nature of the online conversations.
Immediately talk to a child if online behavior is questionable or inappropriate.
Close accounts if questions persist.
"Parents have a tough time keeping up with technology as busy as we are, but they forget they pay the bills for all these devices – and own them," said Detective Petty.
The department's Teen Social Media forum is Monday, March 10 from 7-8 p.m. at the Hamilton County 4H Fairgrounds & Exposition Center.
Social media crimes have increased to more than 100 reported cases annually in Hamilton County alone. Cyberbullying, sexting, child identity theft, cyberstalking, sextortion and other offenses are all increasing.
Even school-issued technology can be abused.
The Teen Social Media forum will help parents focus on identifying misuse of social media, from ways to prevent abuse to dealing with the aftermath of an incident. While the primary target is families with teens, information provided will be applicable to everyone. Parents with younger children who are concerned about the future, as well as adults who may have to deal with social media issues, are welcome. Parents are encouraged to bring middle school age children and older, and free child care will be provided for preschool and elementary age children.
Representatives from agencies and businesses who deal with social media issues will also be on hand to provide additional expertise on the subject, including Verizon Wireless.
Detective Petty said the habits younger children learn are critically important for putting behavior in check as they get older. "One in 10 college admissions officers check social media pages, and 38% found information that reflected poorly on students," he said.
He also said 35% of children ages 13 to 18 have received a sext message.
"Parents need to really look and listen. You need to be in the places where they go. And don't be caught off guard."
Your local law enforcement agency is always a good resource for parents. And don't forget to check in with your wireless carrier for tools that help parents.
Additional resources for parents:
For more Verizon Wireless news, subscribe via RSS feeds in the right rail.