Chimney Sweeps Using Tech & Smartphones to Keep Homes Safe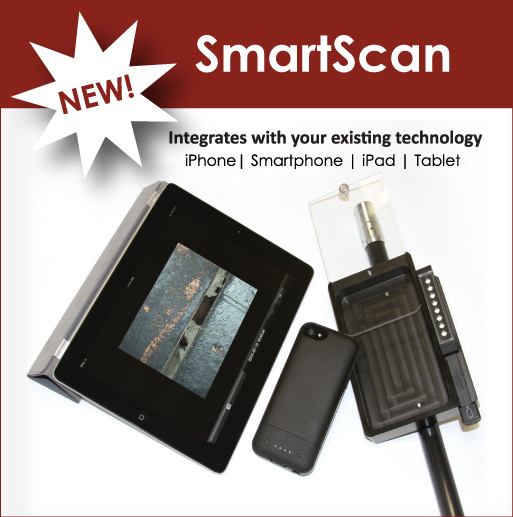 This is a guest post from Tom Spalding, director of communications and marketing for the Chimney Safety Institute of America (CSIA) in Indiana. You can follow the institute on Twitter or Facebook for additional homeowner tips and recommendations.
Chimney sweeps have a rich and storied history, but they bring more than just a brush, black top hat and soot-faced reputation to the job. Sweeps, which belong to an industry that began in the 1700s in the United States, arrive at their inspections armed with the latest in video camera and smartphone technology.
One company, Lindemann Chimney Co., has been trying out a new approach: the SmartScan, which uses the camera function on a mobile phone to transmit and record live images from inside a chimney's flue. The smartphone device is outfitted with a shell (so it won't get coated with creosote) and a sturdy rod to lower or elevate the device into the shaft.
"It's pretty indestructible, and there's no more risk when putting it in the flue than if you are putting it in your pocket and accidentally drop it," says Rob Lindemann, chief executive officer of Lindemann Chimney Co. in Lake Bluff, IL.
Lindemann, whose staff is busiest this time of year, uses the Verizon Wireless 4G LTE network to do his work and mainly iPhones – though he said many sweeps prefer the larger screens of the Samsung Galaxy devices to do the work.
Sweeps remove creosote, the tar-like substance produced from wood burned in the fireplace. Creosote is black or brown in appearance. If it builds up in sufficient quantities – and the internal flue temperature gets high enough – the result could be an unwanted chimney fire, according to the Chimney Safety Institute of America (CSIA), a Plainfield, IN-based nonprofit that certifies and trains about 100 sweeps annually.
Chimney sweeping is done with brushes and other manual chimney cleaning equipment to remove creosote buildup. Sweeping the chimney also helps promote proper drafting so the fire is easier to light, drafts better and burns cleaner.
"People use this technology to play games, watch videos and shop online, so why not use it to keep your home and family safe?" Lindemann said.
Lindemann says about a half-dozen of his crews use the SmartScan, which can be inserted at a common access point inside the home or roof. Lindemann demonstrated its use in April 2013 at the National Chimney Sweeps Guild annual convention. The GPS-coded images are wirelessly transmitted via WiFi or Bluetooth from an app on the phone to a tablet or laptop computer viewed by the technician inspecting the chimney.
Lindemann also uses a more traditional technology that is considered the industry's standard, the Chim-Scan, a hardy, versatile, high-resolution camera and digital monitoring system.
Tom Urban, co-founder and president of Chim-Scan manufacturer Estoban Corp., Fairfield, IA, estimates that one-third of all sweeps use his internal-evaluation gear, which celebrates its 30th anniversary in 2014. Urban introduced video scanning to the industry at a 1984 convention in Washington. D.C. His high-tech invention was then described as "the show stopper" when he was interviewed by CNN.
"The Chimney Safety Institute of America embraces any chimney-view technology that will make our sweeps' jobs easier and safer and allow them to provide better customer service," said Frances L. Kelly, executive director of CSIA.
Homeowners should have their chimneys inspected every year by a technician who is nationally certified by the CSIA for safety reasons. On average, there are more than 24,000 chimney fires reported each year in the United States, according to 2009-11 data. You can find a sweep in your area by using the locator link on the CSIA website.
For more Verizon Wireless news, subscribe via RSS feeds in the right rail.