Dear Charlotte: A letter to my daughter.
Dear Charlotte: A letter to my daughter.
Lessons from dad that can follow you the rest of your life. As Verizon continues to celebrate Women's History Month and the women who are inspiring, raising the bar and driving change, Ronan Dunne shares some advice for his daughter, Charlotte.
Dear Charlotte,
I've had the privilege of watching you grow into an intelligent, beautiful and caring young woman. As you have grown, I feel I have grown too, learning from you and learning with you. Thank you for your generosity in sharing your journey with me, it remains my greatest reward to be your father.
As you grow older and wiser, I know you will lean on me less and less for advice (and financial support 😉), so I wanted to take this time to share a few lessons that can follow you the rest of your life.
Find your purpose in life and be passionate about it.
Surround yourself with positive thoughts and like-minded people.
Lift each other up and work together.
Be your best you - it will be different because you were there.
Embrace your vulnerability, it will be your strength.
Don't be afraid to ask for help.
Don't be afraid to make mistakes. In fact, be afraid if you're not making them.
Never underestimate your power to impact and influence.
Remain curious and you will never grow old.
You are never too young to lead nor too old to learn.
Remember, leadership is not about who is in charge. It's about bringing people to a place they wouldn't otherwise go. I know you will do great things and I will always be here for you with open arms and an open heart.
Go out and make the world a better place.
Love,
Dad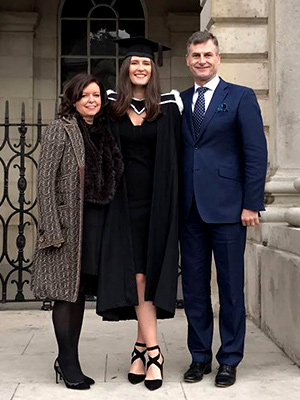 Ronan Dunne is executive vice president and group president of Verizon Wireless, with responsibility for leading and growing the operations of America's most reliable wireless network.