'Driphter' Pantech Perception Review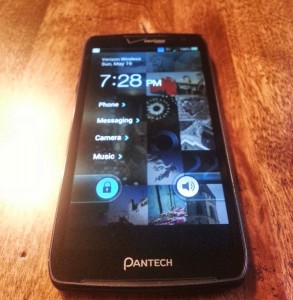 DriphterX from Driphter.com recently wrote a Pantech Perception review, an excerpt of which is featured below.
Usually I spend heavy hands on time with the big hitters, the flagship devices. Knowing that not everyone will or can spend top dollar on a new device, I jumped at the opportunity to take the all new Verizon Wireless Pantech Perception for a test drive! I entered this demo with an open mind and truly did not know what to expect. My experiences with Pantech devices in the past, well ... let's just say are miles away from this excellent contender in the current handset marketplace. I knew that Pantech thrived on an entry level market, but that is out the window with this particular smartphone. Not only does the Perception have a solid build quality, but Pantech must have been taking notes on what consumers need/want from a phone. This device offers a removable back that, while plastic, looks and feels like brushed aluminum. The lithium ion battery is also removable and had no issues lasting a full day of power user torture. Taking a quick walk around the device, the user is met with a great combination of build materials including a metal surround and quality buttons.
To read the rest of DriphterX's Pantech Perception review and find out why he thinks the Perception "crushes the competition on volume and crispness," click here. For more Verizon Wireless news, subscribe via RSS feeds in the right rail.