Enter the Verizon Wireless 12 Days of Giving Sweepstakes Dec. 1-12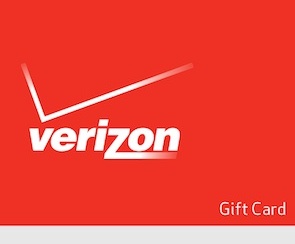 It's safe to say we're in the giving spirit. We just wrapped up two very fun giveaways in Michigan and Kentucky, and now we want to extend the opportunity beyond those two states.
Today, December 1, through December 12, we're hosting the Verizon Wireless Midwest Area 12 Days of Giving Sweepstakes, where you have the opportunity to win one $50 Verizon Wireless gift card each of the 12 days. We'll randomly choose 12 winners and notify them on December 15. Each randomly drawn winner will receive a $50 Verizon gift card.
How do you enter? Two ways:
Using the Rafflecopter widget below, send a public tweet using the #VZholidaysweeps hashtag. More than one tweet (entry) is allowed, but please don't drive your followers crazy and post the same tweet multiple times!
Leave a blog post comment telling us what you'd buy with the $50 gift card (2 additional points - only one comment per person will count in the final tally).
Official rules are listed at the bottom of the post.
We'll notify all winners on December 15. Best of luck, have fun and most importantly, enjoy this time leading up to the holidays!
The Verizon Wireless 12 Days of Giving #VZholidaysweeps Sweepstakes
Official Rules
NO PURCHASE IS NECESSARY TO ENTER OR WIN.
A PURCHASE WILL NOT INCREASE YOUR CHANCES OF WINNING.
ENTRANT NEED NOT BE PRESENT TO WIN.
The Verizon Wireless 12 Days of Giving #VZholidaysweeps Sweepstakes (the "Sweepstakes") begins on December 1, 2014 at 9 a.m. Eastern Time ("ET") and ends on December 12, 2014 at 11:59 p.m. ET (the "Sweepstakes Period").
HOW TO ENTER: To enter the Sweepstakes, entrants must do the following:
Send a Tweet - To participate in the Sweepstakes, entrants must send a Tweet with the Twitter service that contains the hashtag #VZholidaysweeps (the "Hashtag").
To be eligible, the Tweet must be public. More than one Tweet entry per person is permissible, but please do not post the same Tweet repeatedly.
Additional entry points can be received by completing the following:
Commenting on the Verizon Wireless Midwest Area blog post (2 additional points per comment – only one comment per person is permissible).
Tweet Submission Requirements:
Tweet submissions shall not:
Exceed 140 characters;

Contain material which is (or promoting activities which are) sexually explicit, obscene, pornographic, violent, self- mutilation, discriminatory (based on race, sex, religion, natural origin, physical disability, sexual orientation or age), illegal (e.g. underage drinking, substance abuse, computer hacking, etc), offensive, threatening, profane, or harassing;

Contain content which would be derogatory and/or insulting of any other Tweets, Verizon, Verizon Wireless and/or its or their users or affiliates, or any Verizon or Verizon Wireless products or services.

Contain content which refers to and/or is complimentary of any competitors of Verizon Wireless and/or any parent and/or affiliate of Verizon Wireless or its affiliates, or which is complimentary of and/or refers to any product competitive with any product of Verizon Wireless or any parent or affiliate of Verizon Wireless.
All entries become the sole property of Verizon Wireless ("Sponsor"), and receipt of such entries will not be acknowledged. Any individual who attempts or otherwise encourages, directly or indirectly, the entry of multiple accounts or false contact information under multiple identities or accounts, by wireless phone, or uses any device or artifice to enter or encourage, directly or indirectly, multiple or false entries, as determined by the Sponsor, will be disqualified. Lost, illegible, or incomplete entries will be deemed ineligible and disqualified. Sponsor reserves the right to reject any Tweets submitted in connection with the Sweepstakes for any reason, and any Tweets so rejected will not be entered in the Sweepstakes.
In the event of a dispute regarding entries received from multiple users having the same online entry account, you will be required to provide the name of the authorized subscriber of the online entry account at the time of entry and that person will be deemed to be the entrant and must comply with these Official Rules. In such case, online entry information will be declared made by the authorized account holder of the telephone number/email address submitted at the time of entry. "Authorized account holder" is defined as the natural person who is assigned to a telephone number/email address by a telephone company, wireless service provider, Internet access provider, Internet service provider or other organization (e.g. business, educational, institution, etc.) that is responsible for assigning email addresses, telephone numbers or wireless phone numbers for the telephone exchange associated with the submitted telephone number/email address or the domain associated with the submitted telephone, as applicable. Sponsor and its parent, subsidiaries and affiliates are not responsible for late, lost, incomplete, misdirected, stolen, or damaged entries or for technical, hardware, software or telephone malfunctions of any kind, lost or unavailable network connections, or failed, incorrect, incomplete, inaccurate, garbled or delayed electronic communications caused by the sender, or by any of the equipment or programming associated with or utilized in the Sweepstakes which may limit the ability to enter the Sweepstakes or identify the entrant submitting the Tweet, or by any human error that may occur in the processing of the entries in the Sweepstakes.
If for any reason (including infection by computer virus, bugs, worms, tampering, unauthorized intervention, fraud, technical failures, or any other cause beyond reasonable control of Sponsor and its parent, subsidiaries and affiliates, that corrupts or affects the administration, security, fairness, integrity, or proper conduct of the Sweepstakes), the Sweepstakes is not capable of being conducted as described in these Official Rules, Sponsor shall have the right, at its sole discretion, to cancel, terminate, modify or suspend this Sweepstakes, and select the prize winners from entries received prior to action taken, or as otherwise deemed fair and appropriate by Sponsor. Sponsor reserves the right to prosecute any fraudulent entries to the fullest extent of the law.
Selection of Winner: Twelve (12) prize winners will be selected in twelve (12) random drawings conducted by Sponsor on December 15, 2014.
The drawings will include all entries received by the end of the Sweepstakes Period. The potential winners will be contacted via a public or direct message on Twitter, and must reply to the message within (1) day. If the required response to such message is not received within 24 -hours after the message was sent, Sponsor will have the right in its sole discretion to disqualify the potential winner without further notice, in which event an alternate potential winner will be determined, time permitting. The decisions of the Sponsor are final and binding on all matters relating to the Sweepstakes. The prize will be awarded to the entrants whose Twitter accounts were used to enter the Sweepstakes. Winners will be required to complete, sign and return an Affidavit of Eligibility and Publicity/Liability Release prior to the winner's receipt of the prize or the prize may be forfeited and awarded to an alternate winner. In the event that an alternate winner is not eligible or fails to accept the prize, the Sponsor may use or award the prize in any manner it deems fit.
Prize: Twelve (12) prizes will be offered. The prize consists of one $50 Verizon Wireless gift card per winner – 12 gift cards in total.
The aggregate value of all prizes offered in the Sweepstakes is $600. The odds of winning depend upon the number of eligible entries received during the Sweepstakes Period.
Prize Restrictions: Limit one prize per person. Taxes, if any, are the sole responsibility of the winner. Prizes are non-transferable, non-assignable, and not redeemable for cash, except at Sweepstakes Entities' sole discretion. Sweepstakes Entities, in their discretion, may substitute a prize (or prize component) of equal or greater value for any reason. Sweepstakes Entities are not responsible for any costs or services that may be required to use the prize, unless specifically included in the prize, including, without limitation, wireless services, transportation, meals, snacks, or beverages, etc. No more than the stated number of prizes will be awarded. Sweepstakes Entities (as defined in Section 8 below) will not replace any lost or stolen prize.
Eligibility: The Sweepstakes is open to legal residents of the United States who are 18 years or older. Void outside the U.S., in Puerto Rico and where prohibited. Employees of Sponsor, its respective subsidiaries, affiliates, authorized agents and retailers and their respective employees, sales representatives, distributors, advertising agencies, and the immediate family of each, and all individuals (including, but not limited to, consultants, independent contractors, so-called "temporary employees," former employees and interns) who have, within the past six months, performed services for such entities, are not eligible to enter or win. "Immediate families" include spouses, grandparents, parents, children and grandchildren, whether by marriage, past marriages, remarriage, adoption, cohabitation, or other family extension. Non-eligibility will result in disqualification.

General: By entering, each entrant agrees to be bound by these Official Rules and by the decisions of the Sponsor, which shall be final and binding. By entering the Sweepstakes, each entrant grants to Sponsor the right to use entrant's name, likeness, image, voice, hometown, and biographical information in advertising, trade and promotion, including on the Internet or via wireless application protocol, without further notice, compensation or permission, except where prohibited by law.
Any personal information supplied by entrant to the Sweepstakes Entities (as defined in Section 9 below) will be subject to Sponsor's privacy policy posted at http://www22.verizon.com/about/privacy/. By participating in the Sweepstakes, entrant authorizes the Sponsor to communicate with entrant by direct message on Twitter, text message, email and/or telephone and to provide the Administrator and Sponsor's advertising agencies with entrant's contact information.
Twitter, Inc. is not a sponsor of this Sweepstakes and has not authorized or otherwise sanctioned or agreed to this Sweepstakes and/or the use of Twitter's name and/or service for the purposes set forth herein.
Entrants who do not comply with these Official Rules or attempt to interfere with this Sweepstakes in any way shall be disqualified. The use of automated entry devices or any other conduct that impedes the integrity of the Sweepstakes is prohibited. The Sweepstakes shall be construed only according to U.S laws. This Sweepstakes shall be governed by the laws of the state of Georgia without regard to its conflict of laws provision. Except where prohibited, by entering the Sweepstakes each entrant agrees that: (1) any and all disputes, claims and causes of action arising out of or connected with any Sweepstakes or any prize awarded shall be resolved individually, without resort to any form of class action, (2) any and all claims, judgments and awards shall be limited to actual out-of-pocket costs incurred, but in no event attorneys' fees; and (3) no punitive, incidental, special, consequential or other damages, including without limitation lost profits may be awarded (collectively, "Special Damages"), and (4) entrant hereby waives all rights to claim Special Damages and all rights to have such damages multiplied or increased.
Rights in Submissions: By submitting a Tweet for this Sweepstakes, each entrant hereby grants to the Sponsor the exclusive, irrevocable, fully paid, universal license to use, copy, sublicense, transmit, distribute, publicly perform, publish, delete or display such Tweet, or any portion thereof, in any media now known or hereafter devised. Each entrant authorizes the Sponsor, and any entities affiliated or in privity with the Sponsor, to utilize, for eternity and in any manner the Sponsor sees fit, and to make derivative works from such materials. Each entrant agrees that the results and proceeds of such use shall become the property of Sponsor and shall be freely assignable by Sponsor, and that Sponsor and its assignees and licensees shall have no obligations whatsoever to entrant. Each entrant agrees and acknowledges that participation in the Sweepstakes, including, without limitation, the entrant's decision to provide the entrant's Twitter submission to Sponsor for purposes of the Sweepstakes, shall not give rise to any confidential, fiduciary, implied-in-fact, implied-in-law, or other special relationship between the Sponsor and entrant, does not place the Sponsor in a position that is any different from the position held by members of the general public with regard to elements to the entrant's Tweet submission.

Limitations on Liability and Release/Indemnification: BY ENTERING THE SWEEPSTAKES, YOU AGREE TO BE BOUND BY THESE OFFICIAL RULES AND BY THE DECISIONS OF THE SWEEPSTAKES ENTITIES, WHICH SHALL BE FINAL AND BINDING. BY PARTICIPATING IN THE SWEEPSTAKES AND/OR ACCEPTING A PRIZE, YOU HEREBY RELEASE, INDEMNIFY AND HOLD HARMLESS THE SWEEPSTAKES ENTITIES AND TWITTER FROM ANY LIABILITY, LOSS, DAMAGES OR CAUSES OF ACTION INCURRED (HOWEVER NAMED OR DESCRIBED) WITH RESPECT TO OR ARISING OUT OF EITHER (I) ENTRANTS' PARTICIPATION IN THE SWEEPSTAKES OR IN ANY SWEEPSTAKES-RELATED ACTIVITY; OR (II) THE RECEIPT, POSSESSION, OR USE OR MISUSE OF THE PRIZES AWARDED IN THE SWEEPSTAKES, INCLUDING BUT NOT LIMITED TO ANY CLAIMS FOR DAMAGE TO PROPERTY, PERSONAL INJURY OR DEATH, OR CLAIMS BASED ON DEFAMATION, RIGHTS OF PRIVACY, RIGHTS OF PUBLICITY OR MERCHANDISE DELIVERY.
IN NO EVENT WILL SPONSOR, ITS PARENTS, AFFILIATES, SUBSIDIARIES AND RELATED COMPANIES, THEIR RESPECTIVE ADVERTISING OR PROMOTION AGENCIES OR THE ADMINISTRATOR OR ANY OF THEIR RESPECTIVE OFFICERS, DIRECTORS, EMPLOYEES, REPRESENTATIVES, AGENTS, SWEEPSTAKES ADMINISTRATOR (COLLECTIVELY, THE "SWEEPSTAKES ENTITIES") OR TWITTER BE RESPONSIBLE OR LIABLE FOR ANY DAMAGES OR LOSSES OF ANY KIND, INCLUDING DIRECT, INDIRECT, INCIDENTAL, CONSEQUENTIAL OR PUNITIVE DAMAGES ARISING OUT OF YOUR ACCESS TO AND USE OF THE SWEEPSTAKES SITE, TWITTER OR DOWNLOADING FROM AND/OR PRINTING MATERIAL DOWNLOADED FROM A SWEEPSTAKES WEBSITE OR ANY OTHER WEBSITE ASSOCIATED WITH THIS SWEEPSTAKES. WITHOUT LIMITING THE FOREGOING, EVERYTHING ON THE SWEEPSTAKES SITE IS PROVIDED "AS IS" "AS AVAILABLE" WITHOUT WARRANTY OF ANY KIND, EITHER EXPRESS OR IMPLIED, INCLUDING BUT NOT LIMITED TO, IMPLIED WARRANTIES OF MERCHANTABILITY, FITNESS FOR A PARTICULAR PURPOSE OR NON-INFRINGEMENT. SOME JURISDICTIONS MAY NOT ALLOW LIMITATIONS OR EXCLUSION OF LIABILITY FOR INCIDENTAL OR CONSEQUENTIAL DAMAGES OR EXCLUSION OF IMPLIED WARRANTIES SO SOME OF THE ABOVE LIMITATIONS OR EXCLUSIONS MAY NOT APPLY TO YOU. CHECK YOUR LOCAL LAWS FOR ANY RESTRICTIONS OR LIMITATIONS REGARDING THESE LIMITATIONS OR EXCLUSIONS.
By entering the Sweepstakes each entrant acknowledges and agrees that this Sweepstakes is in no way sponsored, endorsed or administered by, or associated with, Facebook, Twitter, YouTube and LinkedIn (collectively, the "Social Media Entities"). BY ENTERING THE SWEEPSTAKES EACH ENTRANT HEREBY RELEASES EACH OF THE SOCIAL MEDIA ENTITIES FROM ANY AND ALL LIABILITY, LOSS, DAMAGES OR CAUSES OF ACTION INCURRED (HOWEVER NAMED OR DESCRIBED) WITH RESPECT TO OR ARISING OUT OF THIS SWEEPSTAKES.
Winners' List and Official Rules: Each entrant may request the names of winners and official rules by sending a self-addressed, stamped envelope by November 30, 2014 to: Verizon, c/o Identity, 30700 Telegraph Road, Suite 1475, Bingham Farms, MI 48025.

Sponsor: Verizon Wireless, 1515 Woodfield Road, Suite 1300, Schaumburg, IL 60173. © 2014 Verizon Wireless. All rights reserved. This Sweepstakes is not sponsored by Twitter.
Administrator: Identity, 30700 Telegraph Road, Suite 1475, Bingham Farms, MI 48025.
For more Verizon Wireless news, subscribe via RSS feeds in the right rail.