ESPN 680 Relies on 4G LTE to Cover Wildcats & Cardinals Epic Matchup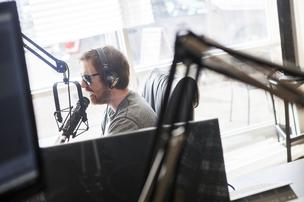 This is a guest post from Andy Sweeney, ESPN 680 Louisville host/executive producer and SportsCenter anchor.
One of the biggest rivalries in men's college basketball tournament history is coming up tonight between the 2012 national champion University of Kentucky Wildcats and the 2013 national champion University of Louisville Cardinals. Both Kentucky-based squads are among the top 16 teams still in the tournament, but one will be eliminated tonight at the Midwest regional semifinal at Lucas Oil Stadium in Indianapolis.
The ESPN680 crew has already followed the UK Wildcats to St. Louis and UofL to Orlando, where we encountered hundreds of sports reporters from across the nation, all trying to use the same arena-provided Internet. Tonight, more than 40,000 people will fill the stadium for the Bluegrass state show down, and the airwaves promise to be zinging with photos, videos, texts and emails as fans and reporters share the action.
We rely on Verizon Wireless mobile hotspots and smartphones to cover press conferences, stream live interviews and sometimes even broadcast our entire show when a venue's Internet is down. We're confident about the Internet at Lucas Oil, given Verizon's network upgrades in time for the first-ever 4G LTE Super Bowl in 2012.
But last week at Scotttrade Center, a bunker mentality took over in the media room when the Internet went out completely. I looked around and about eight out of 10 producers were pulling out Verizon 4G LTE phones to turn on their hotspots. The 4G LTE speeds are critical for sending video feeds. I even let a TV reporter from Western Kentucky borrow my phone because his device from another service provider couldn't get a signal.
This weekend, ESPN680 has five reporters in Indianapolis, and we'll be broadcasting live today from the Sensu Nightclub from 7 a.m. almost until game time. Then we'll be doing the post-game show and bringing listeners live press conferences and locker room and other on-site interviews all day Saturday. On Sunday, when either UofL or UK plays to be among the top four teams heading into the championship, we'll do it all over again.
For more Verizon Wireless news, subscribe via RSS feeds in the right rail.