February is Teen Dating Violence Awareness Month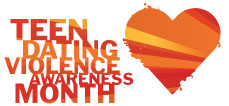 February is Teen Dating Violence Awareness Month, but the staggering statistics surrounding this issue call for a heightened level of awareness year-round. According to research provided by the Rose Brooks Center in Kansas City, Missouri, young females in the teen demographic are extremely susceptible to dating violence. In fact, approximately one in three adolescent girls in the United States is a victim of physical, emotional or verbal abuse from a dating partner – a figure that far exceeds victimization rates for other types of violence affecting youth.
Our company has long been a strong corporate advocate for domestic violence awareness and prevention through our HopeLine® program, but the data we're seeing in this age group calls for additional action at the community level, and where we can all do our part to help. Here are a few ways that we can work together to combat teen dating violence in our communities:
Parents, Take Note
Many parents are unaware that teen dating violence is a real risk, and therefore fail to discuss it with their children. Much like bullying and other issues that plague this age group, parents should make an effort to talk to their children about the issue and pay attention to changes in behavior or visible signs of withdrawal. Whether the child is male or female, open the door to honest communication and work to shift this statistic in the opposite direction.
Education is Key
This year, our company is proud to partner with Rose Brooks Center on "Champions for Teens." The program is a four-week series conducted by Rose Brooks Center's educational specialists at 40 schools in the Kansas City metro area. The specialists will talk with students in grades 6-12 on the dangers of teen dating violence, how to identify the warning signs and provide them with resources they can turn to for help. School is a natural place where teens gather, so this program aims to reach out to students in a venue where they feel safe. In addition to the Champions for Teens program, the experts at the Rose Brooks serve as a year-round resource for those struggling with teen dating violence and do ongoing work in the community to educate individuals and groups on this issue.
Encourage Healthy Relationships through Volunteering
Be a positive role model. Whether you are a parent or just an adult who cares, you can encourage healthy relationships with teens in your area by getting involved through community, church and youth programs or centers. Volunteering gives individuals the opportunity to be mentors, counselors and trusted allies for at-risk teens.
Teen dating violence is a reality, and the burden shouldn't be carried by the victims alone. By doing our part to work with teens in our own communities, we can all work to combat violence one role model at a time.
For more Verizon Wireless news, subscribe via RSS feeds in the right rail.