Finding the Right Ale is Easier with Smartphone Apps about Beer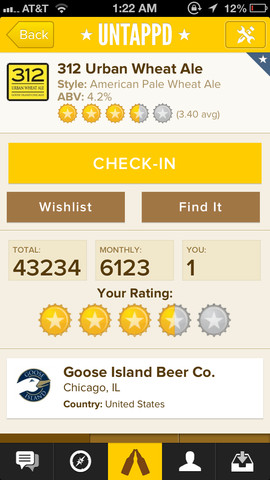 The Brewers Association recently reported that the United States is now home to approximately 2,126 craft breweries, an increase of 20 percent since 2011. While California and the Pacific Northwest are known as the regional craft brewing "pioneers," the Midwest is experiencing a boom in craft beer production. Midwest Living reports more than 530 breweries now call the region home. And an interactive map published this month by the New Yorker shows where new breweries are setting up shop across the Midwest.
Tapping into the rapidly expanding craft brew trend is fun and easy thanks to smartphone apps about beer that include maps, extensive databases and tips for navigating the ever-changing selection.
Share the craft brew trend in your community with friends and fellow crafties via Untappd, free for iOS and Android. This app locates nearby craft beers and bars, shows you trending beers and identifies where your friends are grabbing a pint. You can also rate new craft beer discoveries and share photos with friends.
Impress your social circle by sharing your vast knowledge of craft beer locations with FindMyTap. The free app for iOS and Android pinpoints favorite beers based on your location and provides directions to get there. If a new tap is added at the bar, upload it to the database so other craft beer connoisseurs can find it. Traveling abroad? FindMyTap can locate favorite taps and nearby restaurants in the United Kingdom and Australia.
Want to know the top-rated craft beer by category (ale, lager or mixed)? Rate Beer, free on Android devices, ranks the best beers overall, by category and country. You can also scan the barcode on new craft beers to see details like style, where it is available and comments from people who have tried it.
New to craft beer? Become a connoisseur with your smartphone and the Craft Beer App, available for $.99 on iOS. The app includes an extensive craft beer database and consumer reviews. Each listing includes tasting notes, recommended serving temperatures and food pairings.
Now that you have the tools to find craft beers, deepen your knowledge with BeerAdvocate magazine, available on Android for $.99 per issue or by subscription. Self-proclaimed "beer geeks" discover new beer styles, explore breweries all over the world and get tips on brewing craft beer at home.
Stay in the know about what's on tap in your community, explore top-rated and new brews, and learn what other crafties, brewers and connoisseurs are discovering in the world of craft beer with this wide assortment of smartphone apps about beer. Please remember to drink responsibly.
For more Verizon Wireless news, subscribe via RSS feeds in the right rail.