Food Safety & Technology - Advice From a Turkey Producer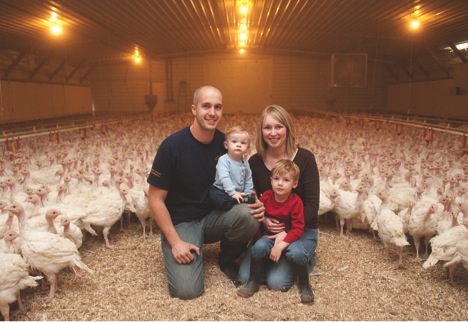 This is a guest post from Katie Olthoff. Katie is married to a fifth generation farmer, and they raise thousands of turkeys near Stanhope, IA, along with their two little boys. She is a former teacher, avid blogger, small business owner, the communications specialist for the Iowa Turkey Federation and a volunteer with CommonGround.
As a turkey producer, food safety is very important to me. We do everything we can to ensure our birds are healthy so my family and yours can enjoy a delicious Thanksgiving dinner.
On our farm, right from the start, we do what we can to prevent disease. The barns are disinfected and the turkeys are vaccinated before they even arrive on our farm. Climate control and properly rationed feed keep the turkeys' stress levels down and immune systems up. Proper use of antibiotics, when necessary, further promotes animal health. Finally, the harvesting process is designed for food safety, as well.
While food safety starts on the farm with the live turkeys, it's up to the consumer to follow preparation and cooking instructions to make sure the food is safe when it comes out of the oven. And I've found a great app to help make sure your turkey is cooked to perfection and any leftovers are safe to eat.
Developed by the Academy of Nutrition and Dietetics, Is My Food Safe? lets users know if food is thoroughly cooked. The Is It Done Yet? feature checks the safe internal cooking temperatures for meats and more. The Time to Toss? section tells you how long you can hang on to the leftovers, which is perfect for that turkey sandwich after the big Thanksgiving meal.
Another section quizzes you about the safety of your kitchen and will give your kitchen a grade. Finally, learn more about food safety in general and receive answers to your questions from registered dietitians with the Ask an Expert feature.
As a busy mom of two little boys, I encounter food safety issues daily. For example, the other day I hard-cooked some eggs and then left them in the pan to cool. Then, I got distracted, and they sat there for quite some time. Still safe to eat? What about the chicken strips the boys didn't finish at the restaurant that we boxed up to take home, only to leave them in the car for an extra hour while we got groceries? Still safe to eat? How about the supper leftovers that sat on the table while I put the boys through the bathtub and to bed. Still safe to eat?
The "Is My Food Safe?" app answered all those questions and more. And I love having all that info right there on my phone, because with two little boys and 60,000 turkeys, who knows when I'll have time to sit down at the computer!
For more Verizon Wireless news, subscribe via RSS feeds in the right rail.