Football Fans Brush Up on Mobile Sports Apps at Tailgate Party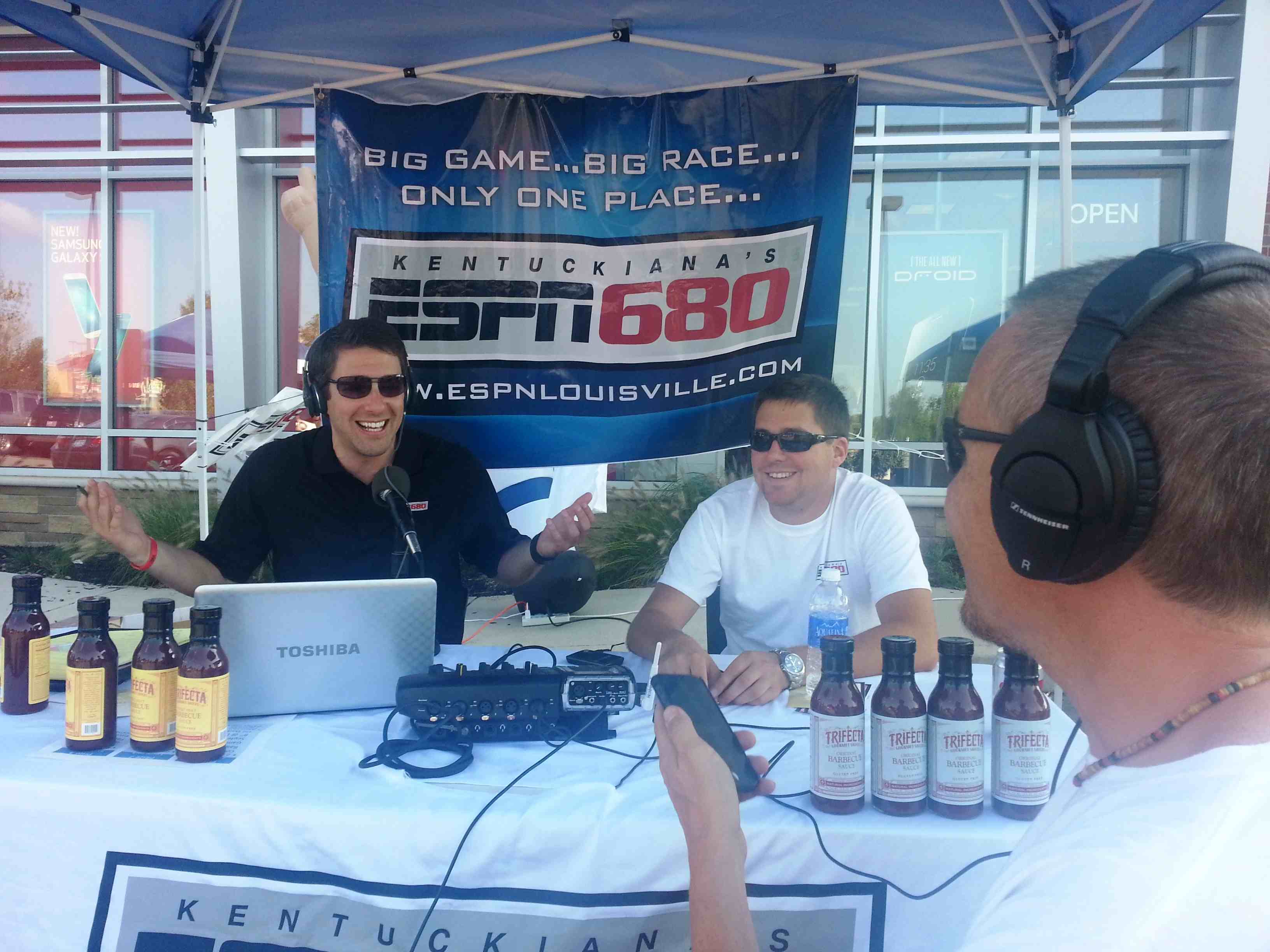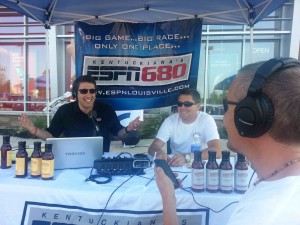 Jason Anderson (left), host of The Zone with Jason Anderson on ESPN AM 680 in Louisville, interviews Paul Ulreich (facing away from camera) of Verizon Wireless about NFL Mobile. Producer Spencer Kietzman looks on.
There comes a time in the pre-season when you've poured over the team camp summaries, read through all the player profiles, sweated out a scrimmage or two and picked up a new jersey for your game day wardrobe. You're beyond ready for the season to start!
With more than a week to go before the 2013 NFL season officially gets underway on September 5, football fans in Louisville, KY kept busy at an ESPN 680/Verizon tailgate party last Friday afternoon. They downed tons of gourmet tailgate food from Drake's, W.g. Grinders, Wick's Pizza and Joe's Older Than Dirt, played fun games including tossing footballs for prizes and corn hole and, most importantly, learned the power of NFL Mobile on their smartphones. With NFL Mobile Premium, Verizon customers can watch all Thursday, Sunday and Monday night games right on their mobile devices.
ESPN 680 (@ESPN680) radio hosts Bob Valvano and Jason Anderson were on hand, broadcasting their shows live from the parking lot at Verizon's Brownsboro Crossing Store. Tailgaters had the chance to interact with Valvano and Anderson, as well as ESPN analyst Will Perdue, while entering to win prizes, including a tailgate grill package from Cabela's and two sets of tickets to the Colts/Raiders game on September 8 at Lucas Oil Stadium.
Andy Sweeney, producer for both The Bob Valvano Show and The Zone with Jason Anderson, praised Verizon's 4G LTE network, claiming the Jetpack 4G LTE™ mobile hotspot he uses often saves the shows when Internet access at the studio or on location is unusable.
Later this week, Verizon Wireless stores will offer fans advance copies of the area's only comprehensive guide to University of Louisville, University of Kentucky, Western Kentucky University and Indiana University football, as well as to the Indianapolis Colts and the Cincinnati Bengals. The free guide will be available first at Verizon Wireless stores in Louisville before fans can get them anywhere else, so listen to ESPN 680 to find out when they hit the stores!
For more Verizon Wireless news, subscribe via RSS feeds in the right rail.