Ghosts & GoPro: Behind the Scenes at USS Nightmare Haunted Ship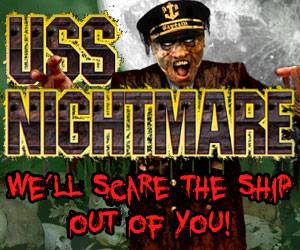 If you've ever been to a haunted house like the USS Nightmare, you know from the second you walk through the creepy entrance doors, the next 20 minutes are out of your control. You're at the liberty of those masked monsters.
But what does the haunted house experience look like from the eyes of the chainsaw-carrying ghosts? We took a trip to the USS Nightmare and brought a GoPro to find out.
The USS Nightmare, based in Cincinnati, OH, offers 30 separate rooms of mind-blowing terror on board an old, "abandoned" ship. One of the ship's scariest ghouls, the chainsaw chaser, wore the GoPro over his getup to capture what the USS Nightmare scares look like from the dark side.
Here's a look behind that screen. Scaredy cats beware: You may just jump out of your seat!
If that doesn't get you ready for a happy, haunted Halloween, nothing will! To find a scary stop or haunted house, try apps like Haunt Finder or Halloween Haunted House Finder.
And of course, if you are visiting the USS Nightmare, this video is only the beginning. With 35 minutes worth of scares, thrills and winding, dark mazes, you'll have no idea what (or who) is around the spooky bend.
For more Verizon Wireless news, subscribe via RSS feeds in the right rail.