Guest Post: Journalist Uses Verizon Technology for Comic-Cons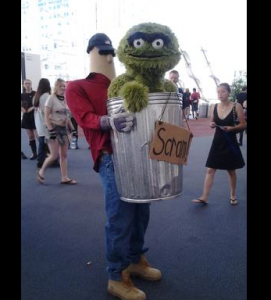 This is a Guest Post from Chicago RedEye's 'Resident Geek' Elliott Serrano (@ElliottSerrano), discussing how he used several pieces of Verizon technology for comic-cons (comic conventions) he recently covered.
When covering the world of pop-culture, "geek journos" like myself will attend several comic conventions throughout the year. These conventions are where fans of superheroes, fantasy and science fiction get together to celebrate their passions.
The comic convention season in Chicago kicked off with the Chicago Comic and Entertainment Expo (C2E2) in April. The show featured celebrities from movies and television, along with the biggest names in graphic novels. "Fanboys" and "cosplayers" from all over the Midwest traveled to the Windy City to be a part of one of the biggest comic-cons in Chicago. To cover the event, I was equipped with a Samsung Galaxy Tab and access to Verizon's 4G LTE network.
The network was put to the test when I attended the Denver Comic-Con, one of the fastest-growing conventions in the industry! Taking place in the Colorado Convention Center, the building's Wi-Fi was taxed to the limit by countless users.
When it came to taking pictures of folks in costume, or live-tweeting a panel, the Samsung Galaxy Tab with 4G LTE proved to be invaluable, freeing me from needing to use the spotty local Wi-Fi hotspots.
The size of the Galaxy Tab also allowed me to show the subjects of my photography their images before being posted to the Internet. Even without use of special lighting, the high-resolution photographs made for great gallery material!
Being able to send out photos on Twitter and Instagram while inside cavernous convention centers like the McCormick Place or Colorado Convention Center, where the Wi-Fi was occasionally spotty, gave me an advantage over the other "geek journos."
View my photos from the Denver Comic-Con HERE.
For more technology for comic-cons, check out the Verizon website for an assortment of smartphones, 4G enabled cameras, tablets and mobile hotspots perfect for uploading and sharing your favorite moments!
For more Verizon Wireless news, subscribe via RSS feeds in the right rail.