Helping Those Protecting Homes, Business and Lives
Helping Those Protecting Homes, Business and Lives
As of Sunday (May 5) the four day old Springs Fire in Ventura County, California, burned 28,000 acres – more than 43 sqaure miles – threatening 4,000 homes and 300 businesses.  In all, nearly 2,200 firefighters have battled the blaze that forced the evacuation of thousands of area residents, including 5,000 students from the California State University Channel Islands alone.
Throughout the inferno, Verizon has been standing-by, providing comunications assistance to the first responders, as well as those they are protecting.
On Friday, Verizon rolled into the Red Cross evacuation center in the city of Thousand Oaks to provide communications assistance to residents displaced by the fire.  Our mobile recharging center provided evacuees with an easy way to keep their wireless devices energized, while our portable WiFi hotspot enabled them to connect their mobile phones, tablets, and PCs to stay in touch with friends and family, and monitor the unfolding situation via online news sources.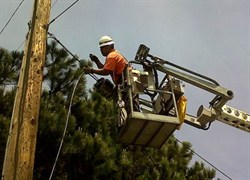 The following day, Verizon revieved a request for phone lines and Internet data connections at a new Fire Command Center being established at the Camarillo Airport.  Our field technicians quicklyinstalled, activated, and tested the performance of the circuits – before turning them over to the firefighting command.
Despite the size and intensity of the Springs Fire, there has only been a small number of injuries and no fatalities.  While 15 homes and five business properties have been damaged by fire, none have been destroyed.
Weather conditions have turned in favor of firefighters.  Humidity is up, while the temperature and the winds have fallen.  Fire command reports the blaze is 56% contained.  Firefighters continue to construct control lines, patrol the fire perimeter and extinguish hotspots.
Verizon line crews and field techs are ready to initiate their repair and restoration work when  we're given the go-ahead from authorities.  Our operations management  reports no major damage to the Verizon wired network in the fire area with the exception of a small portion touched by fire in Camarillo affecting about 185 customers affected.