Paducah, KY Holiday HopeLine Drive Helps Domestic Violence Victims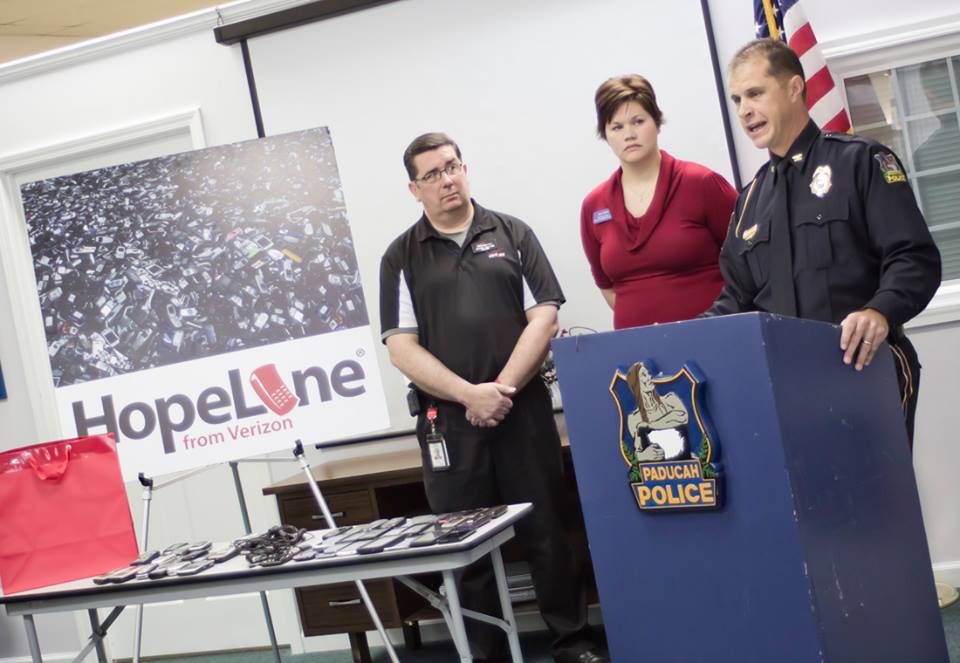 The season of giving is upon us, and we've teamed up with the Paducah Police Department to provide an easy way for Western Kentucky residents to give a little help to their neighbors and friends who are facing domestic violence.
Paducah Police Chief Brandon Barnhill launched a Holiday HopeLine Drive in November by dropping more than two dozen used wireless phones gathered by his department into a specially marked collection box. He then invited area residents to do the same as part of a community-wide drive to raise awareness and funds for domestic violence prevention and treatment in the Paducah area. Bristol Broadcasting radio stations in the community are promoting the drive, as well.
Through January 5, 2014, residents can drop the wireless phones and accessories they no longer use – any brand device, in any condition, from any carrier – into HopeLine® from Verizon collection boxes that are placed in various locations throughout Paducah.
HopeLine devices are refurbished and resold or recycled and disposed of in an environmentally sound way. Verizon donates the proceeds to domestic violence prevention and treatment organizations in the form of cash grants. Last year, we donated more than $100,000 in cash grants to shelters and other organizations in Kentucky alone.
Following the Paducah drive, we will give Merryman House, a domestic violence crisis center that serves residents in an eight-county area, a grant in honor of the police department and community members who donated devices.
"Go through your cupboards and drawers and look for all those wireless phones and chargers you're no longer using, and put them in one of the HopeLine collection boxes you'll see around town," Chief Barnhill said. "The Paducah Police Department is proud to partner with Merryman House in bringing hope to victims of domestic violence. With Verizon's help and the generosity of our great community, we will be able to provide even more life-saving services to the families of Paducah."
Chief Barnhill also encouraged those who receive a new smartphone or tablet as a holiday gift and no longer need their old device to donate it to the Holiday HopeLine Drive. Smartphones or chargers aren't doing any good sitting in a box or closet, he said, but they can do some good for a friend or neighbor who is living the nightmare of abuse. Used devices can be dropped off at:
Paducah Police headquarters, 1400 Broadway Street
Verizon Wireless, 5017 Hinkleville Road
Verizon Wireless – The Cellular Connection, 2540 Loan Oak Road
For more Verizon Wireless news, subscribe via RSS feeds in the right rail.