HopeLine Donation Brings Domestic Violence Advocate Denise Brown to Penn State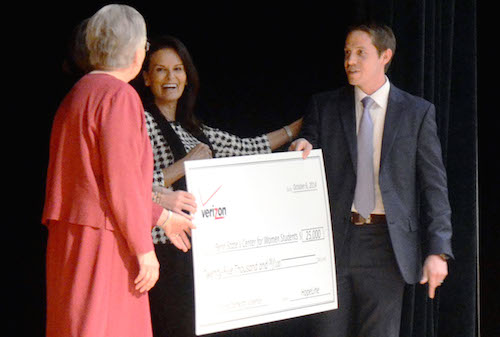 On Monday, October 6, students, faculty and members of the community came together to hear Denise Brown, sister of the late Nicole Brown Simpson, speak about raising awareness about domestic violence. During her emotional presentation, titled "Banish the Darkness, End the Silence," Brown shared fond memories of her sister, along with the tragic details that emerged after Nicole's death about the cycle of domestic violence that she experienced.
The event, which took place on Penn State's main campus, was sponsored by the Center for Women Students and was funded with a portion of a grant from HopeLine from Verizon.
Before Brown's presentation, Verizon Associate Director Ryan Locaitis presented the Center for Women Students with a $25,000 grant and told the audience that Verizon Wireless is committed to the fight against domestic violence. He also noted that it is our ongoing mission to confront the crisis of domestic violence and not run from it.
Denise has been an advocate for domestic violence victims since Nicole Brown Simpson's death in 1994. She has dedicated her life to raising awareness and educating the community about the dangerous epidemic and has traveled across the country addressing students, at risk women, church groups and incarcerated men.
Penn State's Center for Women Students is committed to a campus culture that makes all students feel supported and gives students access to a full range of services, fosters cooperation and respect and creates positive experiences that help students be successful both at Penn State and in the world. The Center supports students who have been impacted by sexual violence, relationship violence, stalking, harassment and other campus climate issues. The Center assists students through education, advocacy, referrals and crisis intervention/support counseling.
Our HopeLine grant to the Center for Women Students will help bring additional programming and special events to campus to raise awareness about domestic violence with students and members of the community.
For more Verizon Wireless news, subscribe via RSS feeds in the right rail.