HopeLine Donation Supports Four-Legged Therapist Working With Domestic Violence Survivors in Pittsburgh
HopeLine Donation Supports Four-Legged Therapist Working With Domestic Violence Survivors in Pittsburgh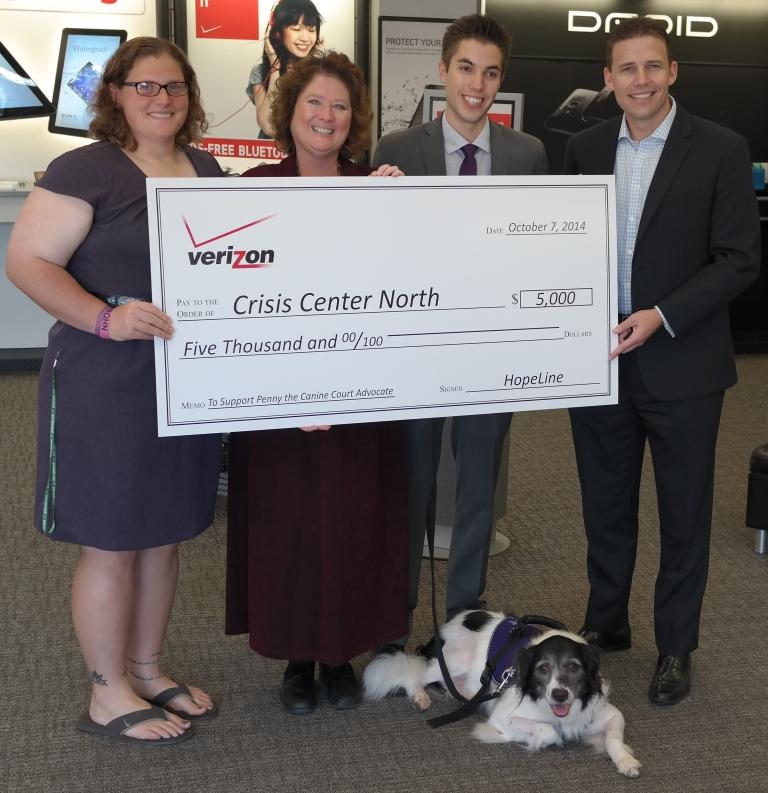 Dogs have earned the title "man's best friend" because they have historically been loyal companions. But many experts also believe dogs are intuitive, which make them great therapy animals that offer non-threatening companionship to people healing from traumatic experiences. Studies indicate that therapy animals can help people deal with anxiety and stress and provide comfort during difficult times.
The benefits of therapy animals can be seen through the work of Penny, a canine therapist at Crisis Center North, a domestic violence organization located in the Pittsburgh area. Penny recently stopped by the Verizon Wireless store on McKnight Road in Pittsburgh to greet customers and honor Domestic Violence Awareness Month. We presented a $5,000 HopeLine donation to support Penny's continued service to the clients of Crisis Center North, as she does her part to end the cycle of violence.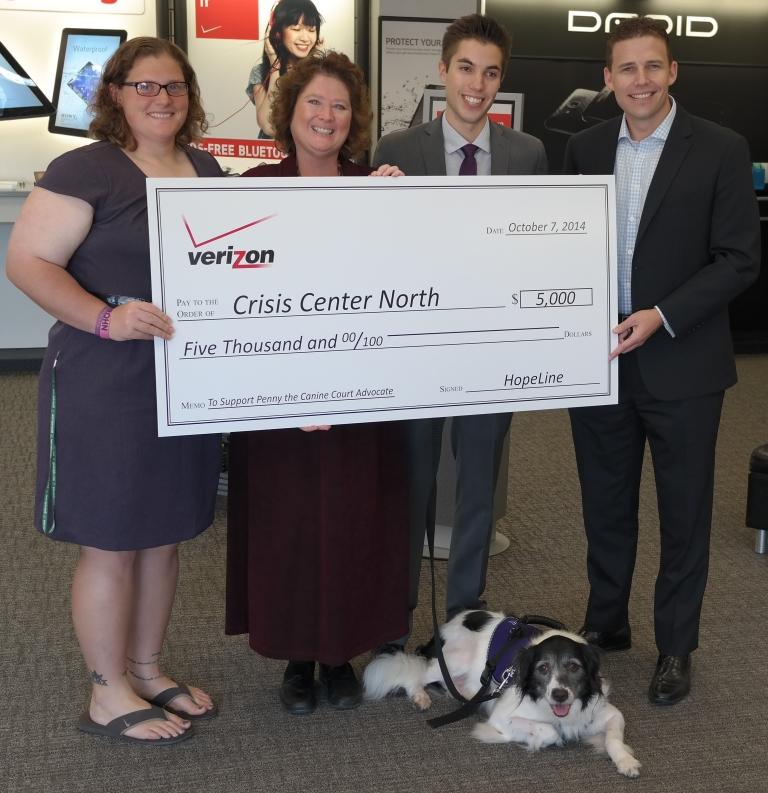 Four-year-old Penny supports domestic violence survivors and their children in counseling sessions and in court. She visited a local Verizon Wireless store as Verizon made a grant to support her services. Pictured from left to right: From Crisis Center North, Kara Sroka, Development Specialist; Grace Coleman, Executive Director; Nick Skitko, Penny's Handler; Verizon's Darren Webster, Director of Sales, Ohio/Pennsylvania/West Virginia Region.
As I walked through the store door, Penny immediately stood from lying down and began to advance toward me – she is trained to greet people and make them feel welcome. Still, Penny also has been known to take a protective stance between domestic violence survivors and their abusers during court meetings. She is a quiet companion, however, not letting out a single bark during her hour-long visit with us at Verizon.
As a certified therapy dog, Penny helps guide and comfort survivors of domestic violence as they attend counseling sessions at Crisis Center North. Her owner, Grace Coleman, executive director of Crisis Center North, grew up around animals because her father was a vet. Grace said a young boy who needed counseling stopped by her office one day and expressed his hesitation about going into session that day. He was playing with Penny, and Grace offered him the chance to take the lovable companion with him, "because I told him Penny really needed counseling, as well." It turned out that session was one of the most beneficial for the young boy who opened up more than ever before with his counselor. Grace immediately began training Penny as a therapy dog.
Penny is the only canine court advocate in Allegheny County – and only the second dog in the entire state of Pennsylvania to hold such an honor. Penny is always willing to lend a helping and comforting paw to those in need, especially in the close quarters of magistrate courts as survivors navigate the legal system.
Crisis Center North is a program member of the Pennsylvania Coalition Against Domestic Violence. The Center provides free advocacy and counseling to adult, teen and child survivors of domestic violence in the northern and western communities of Allegheny County, in addition to providing educational programming to local schools.
Crisis Center North is also among a growing number of domestic violence organizations that recognize the large role pets can play in a domestic violence survivor's life. Many survivors often delay leaving or return to an abusive partner out of fear that their abuser will injure or kill their beloved pet. The Center has partnered with nearby animal shelters to ensure that pets are placed in a safe and secure environment when a survivor leaves an abusive situation.
For more Verizon Wireless news, subscribe via RSS feeds in the right rail.