How the Lives of "Mad Men" Would Have Been Different With Today's Mobile Tech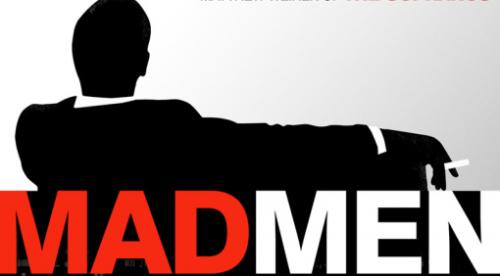 For the last seven years, Mad Men has given viewers a peek into the advertising world of the 1960s. With the series finale on May 17, we're looking at this iconic show with GIFs and technology. Mad Men spotlighted creative campaigns, challenging clients and the day-to-day life of the top executives of the advertising industry.
While they were still able to accomplish so much with typewriters and snail mail, we can't help but wonder how things would have been different for the ad execs of Mad Men had they had access to today's technology and a reliable 4G LTE network.
1. Don Draper is a sought-after legend among Manhattan's creative professionals. Everyone knew who he was, no matter the agency or industry. While everyone knew Don, he couldn't always keep track of the people he met throughout his career as an advertising legend.
Don could have really benefitted from the Facebook or LinkedIn apps on his smartphone. With background (and pictures) from these tools, he would have been much better at putting names to faces and could have avoided these awkward elevator conversations:
2. The secretaries of Mad Men kept everything running smoothly. They woke their bosses from naps to ensure they made important meetings, protected them from unwanted visitors and covered for them when they didn't show up for an important client presentation. Sometimes they even needed to do some personal errands, including buying gifts for family members.
For example, Don asked his secretary Allison to buy Christmas presents for his kids, Sally and Bobby Draper. In those days, it often required them to leave the office to go to a store and pick something up. If only they had the Amazon app on the Samsung Galaxy S6, they would have had all the shopping possibilities at their fingertips from the comfort of their desk.
3. Before Sally transferred to Miss Porter's boarding school, she was always ignoring Don's fatherly instructions. Whether she was hiding on a train or sneaking out to go to the American Museum of Natural History, Don could have better kept track of Sally if he had the GizmoPal This accessory would have allowed Don to track the GPS location of Sally, see where she had been and also chat with Sally when she was somewhere she wasn't supposed to be.
4. Despite his hippie acid trips and final-season mustache, Roger Sterling sometimes struggled with fashionable sophistication. His latest and perhaps final companion, Marie Calvert, oozes sophistication and Parisian chic. Roger may not be able to keep up with her sophistication, but he could fake it until he makes it with the help of Phrasebook. The app would provide Roger with the French phrases he would need to get by and impress Marie.
5. One of the most iconic aspects of Mad Men is the over-the-top office drinking. In Mad Men, every executive has a fully stocked bar and every hour is happy hour at Sterling Cooper Draper Pryce (SCDP). The employees could have benefitted from the Mixologist app to help branch out from an Old Fashioned.
The characters on Mad Men were able to accomplish many things without the help of technology we take for granted today. If only Roger knew what today's hand-held devices could do!
Image via deadline.com.
For more Verizon Wireless news, subscribe via RSS feeds in the right rail.