Illinois Lt. Governor Sheila Simon Launches 4th Annual State-wide Verizon HopeLine Drive to Support Domestic Violence Awareness Month
Illinois Lt. Governor Sheila Simon Launches 4th Annual State-wide Verizon HopeLine Drive to Support Domestic Violence Awareness Month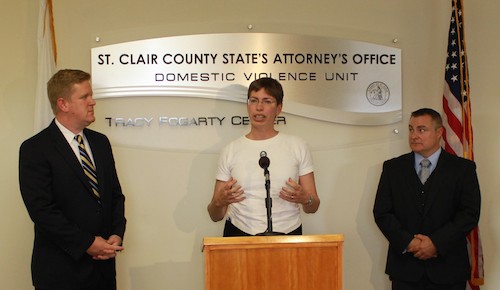 In recognition of Domestic Violence Awareness Month, Illinois Lieutenant Governor Sheila Simon has kicked off her fourth annual cell phone drive in partnership with the Verizon HopeLine program. Illinois residents can donate no longer used wireless devices at the Lt. Governor's offices in Chicago, Springfield or Carbondale, or at any Verizon Wireless store. The drive will run through October 24.
"This Domestic Violence Awareness Month, I am proud to be supporting the work of the Violence Prevention Center and Connections for Abused Women and their Children," Simon said. "Organizations like these help survivors to protect their families and themselves as they get back on their feet after abusive relationships. I hope this cell phone drive will encourage Illinoisans to give, but also to educate themselves on domestic violence."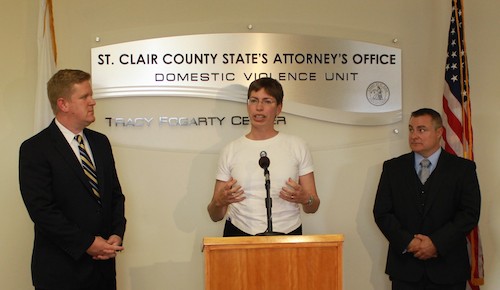 St. Clair County State's Attorney Brenden Kelly, Illinois Lt. Governor Sheila Simon and Michael Lovasco of Verizon Wireless launch the 2014 Illinois HopeLine drive at a press conference in Belleville, IL.
Collected devices will go to Verizon's HopeLine program to be refurbished and resold. Additionally, the Verizon HopeLine program will donate $10 per phone, up to a maximum of $10,000, to Connections for Abused Women and Children in Chicago and the Violence Prevention Center in Belleville, IL.
"All of us at Verizon understand the importance of working with community leaders in their efforts to eradicate domestic violence," says Brian Pascoe, Verizon Wireless. "Verizon Wireless, through the HopeLine program, is committed to supporting survivors of domestic violence and the organizations that provide shelter and prevention programs. We need to work together to end domestic violence, and through this phone drive, we hope to spread the message across the state of Illinois."
For more Verizon Wireless news, subscribe via RSS feeds in the right rail.