Infographic: The Rise & Fall of the Flappy Bird App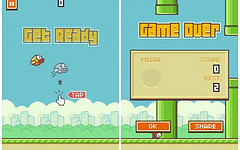 The overnight sensation and subsequent fall into infamy unfolded right before our very eyes. Flappy Bird's meteoric rise to fame wasn't because it was a great game. It was because it was a terrible game that people couldn't help but talk about it. With no discernible strategy or skills required, success in the game seemed to be determined at random, or just by pure luck.
Created by one man in Vietnam, Flappy Bird quickly began topping the app charts in more than 100 countries and beating some of the most downloaded apps of all time. Racking up a download count of 50 million and receiving more than 48,000 ratings, everyone was baffled by its growth. Creator Dong Nguyen defended himself, saying all the downloads were organic, as well as its rise to fame.
Some of the more angry users who were fed up with the app began to speculate that the only deciding factor of achievement in the game was from computer bots. Others had begun to entertain the idea that the whole game was just a PR stunt for a larger gaming studio. Some time after the game had taken off, Nguyen suddenly announced, via Twitter, that he would be removing the game from app stores quoting, "I cannot take this anymore" - likely referring to the volume of hate mail sent from disgruntled users.
Flappy Bird, while off the app shelves for good, is still very much alive for the players. The players who could never beat their high score and despite being angered and frustrated by the game, always came back for more.
Take a look at this infographic for more on the life and time of Flappy Bird.
How was your experience with Flappy Bird? Leave a comment letting us know!
Source credit - StartApp
Photo Credit: KoFahu meets the Mitropa via Compfight cc
For more Verizon Wireless news, subscribe via RSS feeds in the right rail.