Insurance Technology Tips: How Mobile Keeps You Covered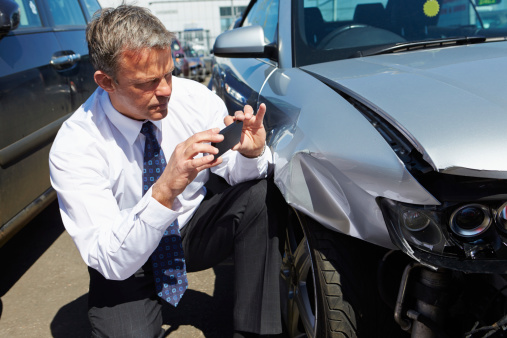 This is a guest post from Matthew Smith, an experienced insurance and financial services agent for Farmers Insurance in Columbia, MO.
Here in the Midwest, the beginning of a new school year signals the end of summer for some. I say, don't give up on summer yet. We still have at least another month of great outdoor weather and plenty of time for those last minute vacations, weekend getaways and both home and away football action.
So grab your sunglasses and hat, and don't go anywhere without your smartphone. Here's why. I am not a travel agent. I am in the insurance industry. And from my experience, I can tell you that nothing can ruin a great trip faster than an accident when you are away from home. No tool can help you deal with an accident better than your mobile device.
Whether you are involved in an auto accident while traveling, or something happens to your home while you are on the road, here are some quick insurance technology tips that can help you deal with the situation at hand:
Load important contact numbers in your phone before you leave town. Everyone has mom, dad and the kids' contact information, but in case of emergency, it makes sense to have your doctor's contact information, the phone number of the home or hotel you will be staying in – and yes – your insurance agent's contact information. Every time I write a new policy, I provide my clients with complete contact information and encourage them to enter that data in their cell phones. If you're in trouble, your insurance agent is a great resource for getting the help you may need.
Load your proof of insurance card into your smartphone. These days, many major insurance companies provide electronic versions of your proof of insurance card. It has always been a requirement that you carry such proof of insurance in your vehicle, but recent legislation in Missouri now allows insured drivers to carry that documentation on their cell phones. Never dig through your glove compartment again!
Download your insurance company's app. Many major insurance companies offer their customers a proprietary app. In my case, Farmers Insurance offers a mobile app for both iPhone and Android users. It is completely free and comes packed with lots of useful information. You can look up my contact information, or that of an agent in another community, directly from the app. You can access your account. You can even find out how to change a tire or summer proof your car in the "How To" section.
Call for help. This seems obvious, but what would an article about insurance and cell phones be without mentioning making a phone call? First, check to see if anyone is injured. If you suspect someone has been hurt, call 911 first. If there is no injury involved, the police dispatcher will inform you whether to expect a visit from the police. In some larger cities, police don't have the manpower to cover every minor accident, so a formal police report may not be available. They will, however, have a record of your call. After you have contacted the authorities, call your insurance agent and he or she will get you help or walk you through the types of information you should get from other people involved in the accident. Accidents are almost always stressful, so it helps to have a friend on the line as the situation unfolds.
Document the accident. Most smartphones have great cameras – both photo and video. If you can do so safely, take a few quick pictures of damage you can see – then take a wider shot of the accident scene that can help show the relative positions of cars, road conditions or other factors. Both still shots and video can be useful. Do NOT, however, put yourself in danger. Do not walk into the roadway to get a good picture, and if your vehicle is blocking traffic or causing a hazard for other motorists, try to get your vehicle off the roadway, even if you haven't been able to get a good "scene of the accident" picture.
Trade information. Typically, you will want to trade information with other people who were involved in the accident. Rather than writing that key information on an old napkin or a scrap of newspaper, enter the information directly into your phone. It will serve as a more permanent record of information when you file your formal claim – and it will certainly be easier to find.
Most of these insurance technology tips may seem like common sense, but you would be amazed at how many people become flustered just after an accident, forget to gather important information or simply don't realize all the tools that they have at their disposal. Share these tips with your family before they plan to travel away from home – and never hesitate to call your insurance agent for help. Just like Verizon Wireless, no matter where you go, we've got you covered!
For more Verizon Wireless news, subscribe via RSS feeds in the right rail.