Internet Cat Video Festival: Q&A With Golden Kitty Nominee Alana Grelyak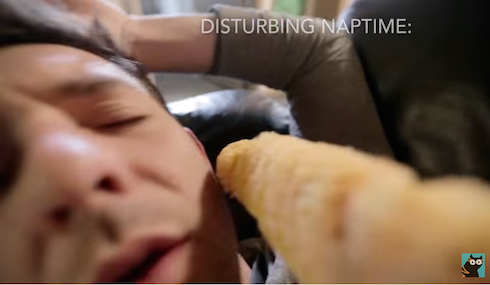 On Wednesday, August 12, more than 10,000 cat lovers will flock to the Internet Cat Video Festival in Minneapolis to watch the best of 2015's viral feline footage. Beloved cat blogger and screenwriter Alana Grelyak partnered with her husband Michael Gabriele to produce "Cat Behavior Finally Explained," one of five videos looking to claim the festival's top honor: the Golden Kitty Award. We caught up with Alana to talk about her experience in the wonderful world of viral videos and costume-wearing cat lovers.
Q: Your nominated video, "Cat Behavior Finally Explained," has more than 12 million Facebook views and is up for the Golden Kitty Award. Why do you think this video is so popular?
A: The title is intriguing and pulls a lot of people in—everyone wants to know what is going on in a cat's head. We've also seen the video shared a lot by people tagging friends in comments such as, "This is so your cat!" because they're such universal cat behaviors. And although it's a funny video, the call for adoption at the end gives the video a larger purpose and adds to the number of shares.
Q: #CatVidFest is all about viral videos. As a successful screenwriter/director duo with your husband, what advice do you have for people looking to create a viral video?
A: It's an exciting time in filmmaking because anyone with a smartphone can create something awesome. Several of our videos were shot with an iPhone and then cleaned up later through editing. Michael and I turn to the Skype app to capture actors who can't be on set. We're even hoping to try this with rescue cats soon.
Sharing videos through Twitter and on my two blogs, CATastrophes and Cat In the Fridge, allows us to reach our existing audience, as well as new audiences. Posting to YouTube is a start, but tapping multiple channels is what gains significant followers. And, as with all viral sensations, it takes a little bit of luck, too.
Q: What are you most looking forward to at the festival?
A: I'm excited to connect with the many friends we've met online but rarely get to see in person. There's also the unmatched enthusiasm of the cat community—seeing thousands of people dressed as cats is something I'll never get sick of. As a screenwriter, there's no experience more rewarding than watching people enjoy your film, so I'm most excited to see "Cat Behavior Finally Explained" on the big screen.
Alana and Michael's video, "Cat Behavior Finally Explained" is one of five videos contending for the Golden Kitty. It will grace the screen this Wednesday at the Internet Cat Video Festival, but you can also check it out here:
For more Verizon Wireless news, subscribe via RSS feeds in the right rail.