My Tech-Driven Iowa Corn 300 IndyCar Experience at Iowa Speedway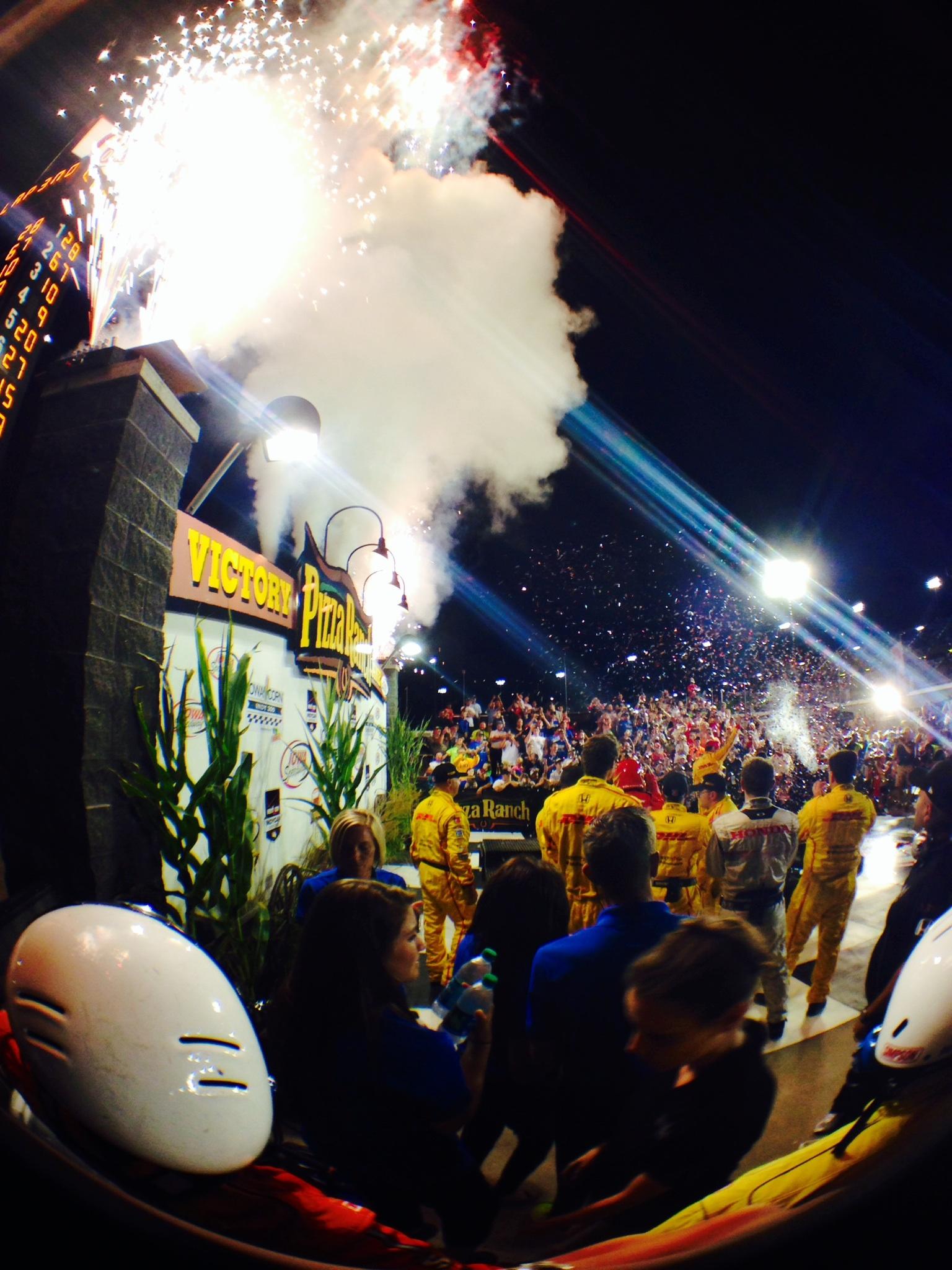 I attended the Iowa Corn 300, the most watched Verizon IndyCar series on NBCSN since 2012. As my first experience watching Verizon IndyCar, I was completely blown away.
The sights and sounds of Indy Cars roaring to life filled my ears on a muggy Saturday night at Iowa Speedway. It was a noise much welcomed after a day-and-a-half of rain and wind delayed qualifying on Friday and threatened to cut short my first IndyCar experience as severe weather and a tornado watches paraded across central and southern Iowa on Saturday. Here's a short video I put together:
I was equipped with technology, including a Samsung Galaxy Camera, Samsung Galaxy S5, an OlloClip 4-in-1 photo lens and a MiFi Jetpack to help capture the experience. Through these devices I was able to share my experience with family, friends and IndyCar fans alike with Verizon's beefed up XLTE network at the speedway.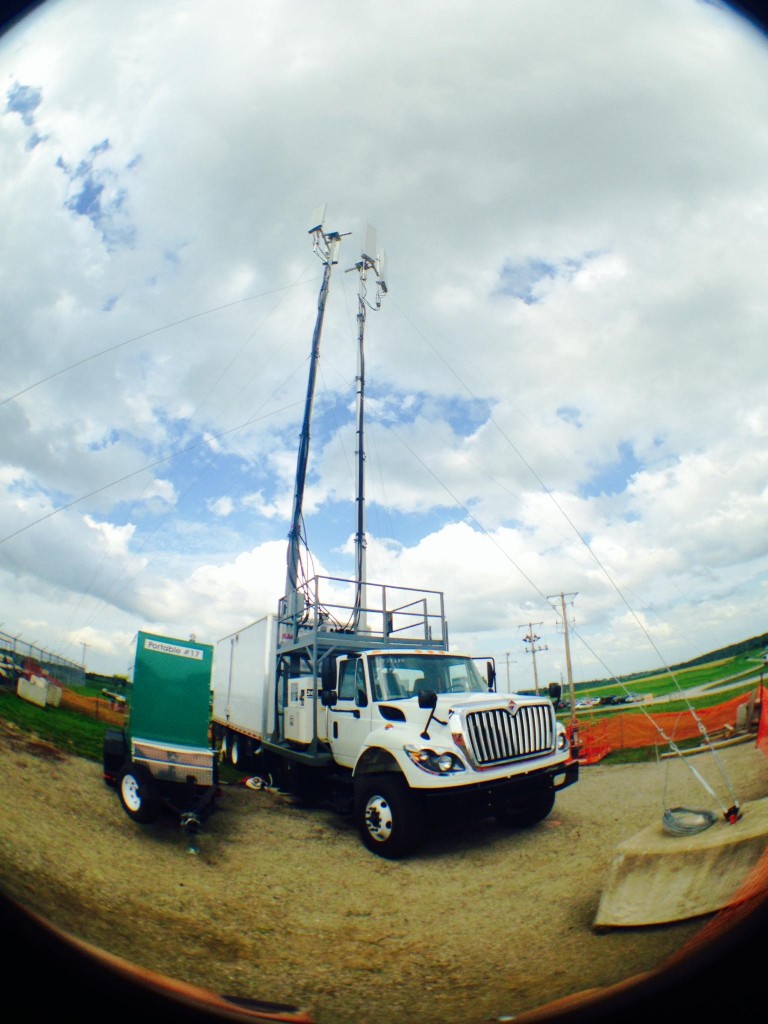 The Verizon COLT on location at the Iowa Speedway.
I arrived in Newton, a town 30 miles east of Des Moines, IA, Friday afternoon and immediately felt energy and excitement buzzing through the rain-soaked air. Thousands of people wandered the infield and surrounding track areas and headed to the IndyCar Fan Village to experience the Verizon Smart Tent—with featured zones comparable to the innovative Verizon Destination Store, as well as an LTE Multicast demo—while waiting out the rain.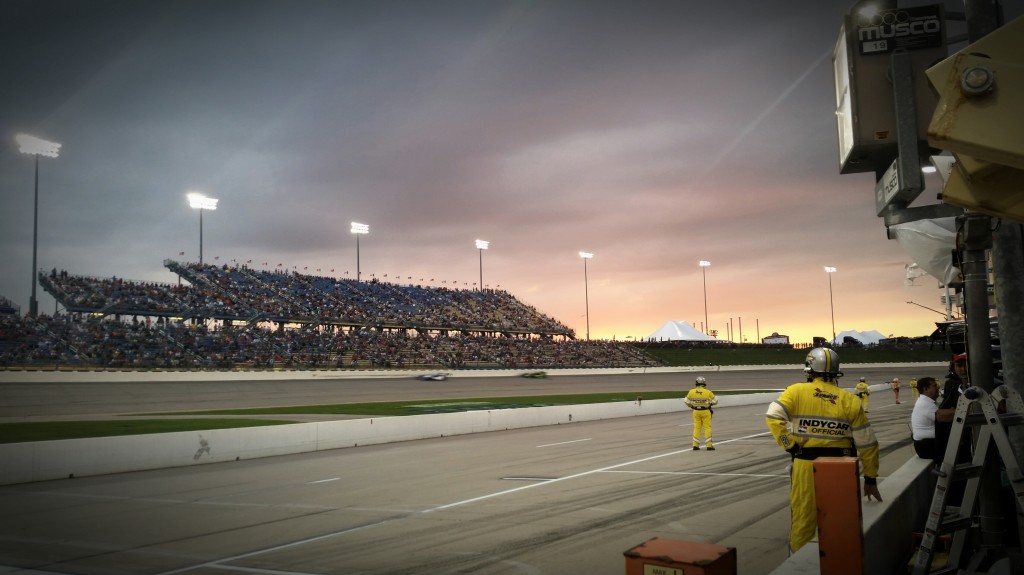 The clouds part after a day of tornado watch alerts and rain for a beautiful sunset at the Iowa Speedway.
After I left the track Friday, my INDYCAR 14 app powered by Verizon kept me updated on what was still happening at the Iowa Speedway. I felt confident that if weather forced race time to shift earlier in the day Saturday, or even Sunday afternoon, I would not miss a beat because the app would send me an instant notification.
The INDYCAR 14 app was what prepared me for my first IndyCar experience. It virtually introduced me to each driver and allowed me to select a favorite (an easy choice): Verizon-sponsored Team Penske driver, Will Power, who wears the number 12 and was leading the series heading into the weekend.
The Race
Short tracks like the Iowa Speedway tend to have less interesting races; once a lead is created, trailing competitors usually cannot catch up.
Luck was in my favor, as the last 50 laps of the Iowa Corn 300 showed me car wrecks and strategic pit stops, ending with Ryan Hunter-Reay's dash from ninth to lead the final two laps and take the victory. Will Power, my favorite, went from a steady fourth place to finishing in fourteenth after a risky move ended in him clipping the outside wall.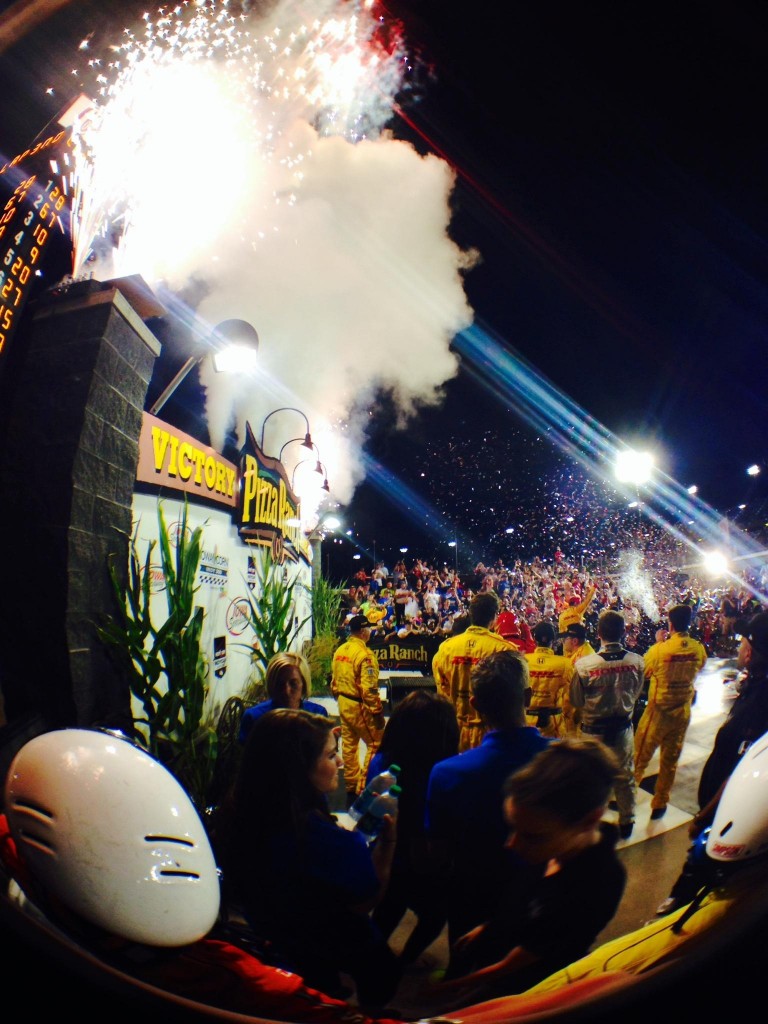 Ryan Hunter-Reay and team celebrate after their victory.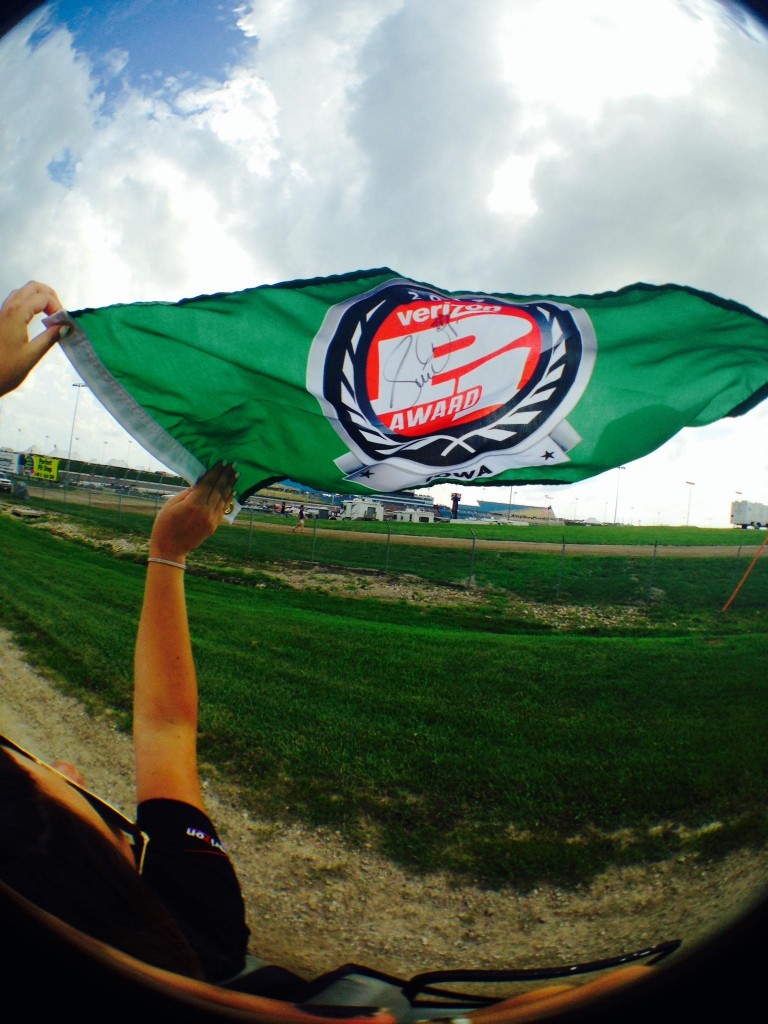 The official Verizon P1 Award flag signed by Scott Dixon, the Iowa Corn 300 Verizon P1 award winner.
I would not have comprehended all this action if not for the INDYCAR 14 app and the Verizon Technology Pit I was posted in for the majority of the race. The Tech Pit was equipped with:
Flat-screen TVs updating viewers on weather, race statistics, up-to-the-minute social feeds and exclusive live-streaming-camera viewpoints.
Tablets connected to the INDYCAR 14 app that allowed me to listen to live driver-pit crew chatter and IMSP radio broadcast of the race.
Smartphone and tablet chargers so my devices were always ready.
I ended the magical evening in the Victory Lane where the top three drivers celebrated with confetti, fireworks and trophies. To check out a race of your own this season, here is a list of upcoming races. And to hear Will Power and other IndyCar drivers talk about why they love racing, check out this post.
For more Verizon Wireless news, subscribe via RSS feeds in the right rail.