Iowa DOT Uses iPhones on Snowplows to Provide Real-Time Photos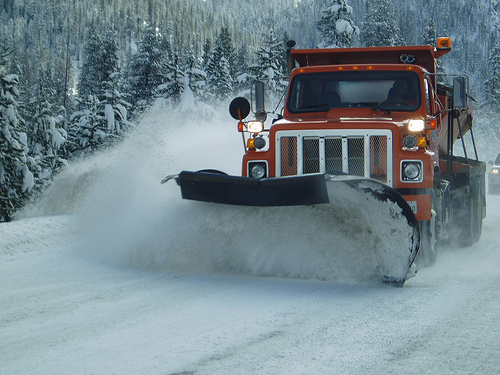 Winter weather driving is never easy, but Iowans now have a new high-tech tool to help them navigate snow-and ice-covered roads.
The Iowa Department of Transportation (DOT) is in the midst of a pilot project in which iPhones are mounted to the windshields of 100 of its 900 snowplows – most using the Verizon Wireless network to provide drivers with real-time photos of road conditions.
The iPhones snap still shots every 10 minutes. The images then are geotagged and automatically sent to a website where the public can view them. The Iowa DOT utilizes GPS-AVL (global position system-automatic vehicle location) technology in each truck, so the trucks and the photos can be geolocated on a state map.
Currently, the plows equipped with iPhones are located in central Iowa, but John Hart, assistant state maintenance engineer, said there are plans to add another 100 phones on plows across the state before the end of this winter.
"We are at the forefront of states using GPS-AVL technology to track where our plows are, which allows us to pinpoint on the website where the photos are being taken. Some states have explored the concept of using phone cameras, but I'm not aware of anyone else with the coverage we have or the AVL-GPS technology likes ours," Hart said.
Hart credits the Iowa DOT's director for the iPhone photo technology being used.
"His interest in innovation and technology, coupled with his desire for having a more efficient DOT while serving the needs of motorists, is what led us here," he said. "Because a picture is worth a thousand words, we can show motorists exactly what a "partially covered" road means now. If we're getting blowing snow, they can see firsthand what the visibility really is like where they'd like to travel."
Hart says the new technology also saves the department money and time.
"Supervisors can see the conditions themselves from a centralized location without driving their routes as much. Snow plows can refocus their efforts on more impacted roads, and supervisors will know if additional trucks need to be dispatched," he said. "Other areas of the state can watch the storm roll into their area, see which treatment methods are working where the storm has hit and how the road conditions are responding to the storm."
To view the photos, visit the Iowa DOT website and click on the snowplow locations map.
For more Verizon Wireless news, subscribe via RSS feeds in the right rail.
Photo Credit: Telstar Logistics via Compfight cc