Jana's Campaign Works With HopeLine to End Teen Dating Violence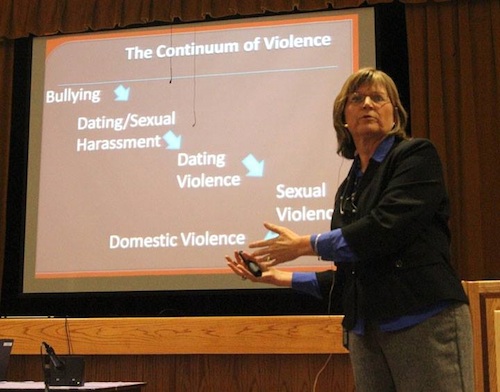 February is Teen Dating Violence Awareness Month, an important aspect of domestic violence awareness year-round. Jana's Campaign in Hays, KS partnered with HopeLine from Verizon in 2013 & 2014 for its "Love Doesn't Hurt" campaign. The program had immense success reaching teens and young adults with critical information about domestic violence and it's poised to make a bigger impact in 2015.
In 2013 & 2014, this seven-part campaign to stop teen dating violence took off at incredible speeds. Over the course of two years, Jana's Campaign reached 71 middle and high schools in 40 counties across the state of Kansas, educating hundreds of students between the ages of 11 and 18. The campaign, "Love Doesn't Hurt," aims to teach teens and young adults how to recognize unhealthy relationships and arms them with the resources to foster healthy relationships throughout their lives.
The campaign embraces other curricula through programs such as "Coaching Boys into Men," which trains coaches to teach young men about the dangers of gender-based dating violence and "Safe Dates," which is a ten-session dating violence education program for middle and high school students. Jana's Campaign provides these resources to students throughout Kansas, along with unique school assembly presentations and classroom workshops, to create the highest level of education possible for middle and high school students.
"A comprehensive strategy is truly the best way to educate young adults about teen dating violence," said Dr. Curt Brungardt, president and co-founder of Jana's Campaign. "Using evidence-based curriculums like 'Safe Dates' in classrooms, in combination with co-curricular work like service projects that educate the community, allows for a holistic approach to ending the cycle of domestic violence."
Through $15,000 in grants from HopeLine from Verizon, Jana's Campaign executed all levels of their "Love Doesn't Hurt" campaign. Their work expanded with the Heartland Campus Safety Summit, with bystander intervention training funded by HopeLine. The summit targeted college students and administrators from six states (Iowa, Nebraska, Kansas, Missouri, Arkansas and Oklahoma) with vital information about stopping gender-based violence on college campuses.
Already in 2015, Jana's Campaign has worked with five schools in Western Kansas to train teachers as coaches for the "Coaching Boys into Men" program. By bringing a "Safe Dates" trainer to Kansas from Minneapolis, Jana's Campaign has also allowed 20 Kansas teachers to become certified "Safe Dates" trainers. These 20 teachers will put on six conferences in 2015 that will hopefully train more than 150 additional teachers in this curriculum.
The Love Doesn't Hurt Program and Jana's Campaign is reaching students all across the state of Kansas.
Brungardt feels that educating young adults about healthy relationships is essential to breaking the cycle of domestic violence. Brungardt and his wife Christie lost their daughter, Jana Mackey, to a domestic violence incident in 2008 and have chosen to honor Jana's memory by educating as many audiences as possible about gender-based violence recognition, reaction and prevention.
"We believe to break the cycle of domestic violence, you have to start at a young age," said Brungardt. "Education is essential to prevention. While services for victims are extremely important, if that's all we do, we'll always have to do that. National data shows that gender-based violence is increasing in the young-adult population. We need to be proactive about preventing future cycles of violence."
For information on Jana's Campaign, the Love Doesn't Hurt Campaign, or other domestic violence prevention efforts, please visit www.janascampaign.org.
You can stay up-to-date on Jana's Campaign news by following them on Twitter @janascampaign and Jana's Campaign on Facebook.
For more Verizon Wireless news, subscribe via RSS feeds in the right rail.