Judge Susan Miles Presented First Verizon HopeLine Safe Communities Champion Award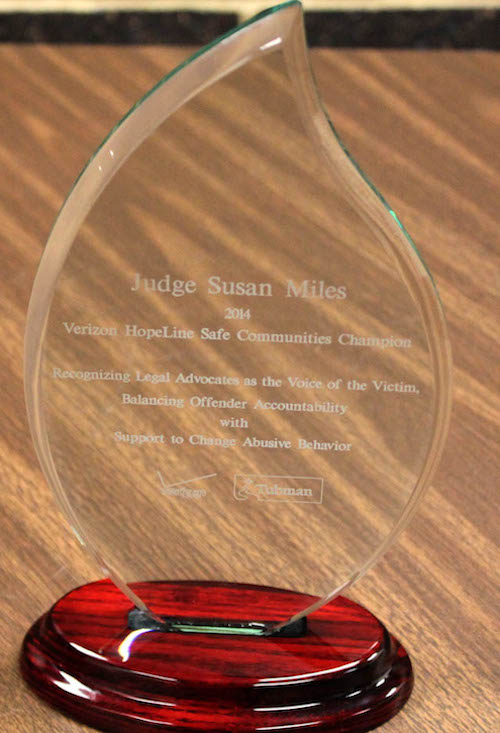 The first recipient of the Verizon HopeLine Safe Communities Champion Award, Judge Susan Miles of Washington County, MN, was honored at a reception recently at the new Tubman East Legal Services Center. The award was created by Tubman and Verizon to recognize a leader from law enforcement or another criminal justice partner for an outstanding accomplishment to reduce domestic violence.
Judge Miles was honored for recognizing the role of legal advocates as a voice for the victim and for balancing offender accountability with support to change abusive behavior, according to Rachel Sibley, senior staff attorney at Tubman.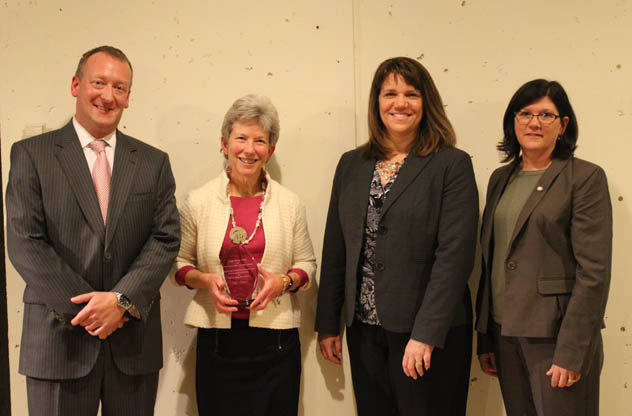 Cary Degenstein, Judge Susan Miles, Nikki Cullen and Rachel Sibley at Verizon HopeLine Safe Communities Champion Award presentation.
"As an attorney who goes before Judge Miles regularly, I can tell you she's tough—and always fair. She listens to the evidence carefully and is consistent in her rulings regarding domestic violence in both civil and criminal matters. Her orders are detailed and protect families fleeing domestic violence," said Sibley.
Other award nominees included Sergeant Randy McAlister of the Cottage Grove Police Department and Judge Thomas Gilligan, a former volunteer attorney for Tubman's Safety Project and now a judge in the Second Judicial District.
Cary Degenstein and Nikki Cullen of Verizon announced the new award, along with a $50,000 HopeLine grant to the Tubman East Legal Services Center. The first floor of the Tubman Center East facility is devoted to providing legal services to victims of domestic violence, sex trafficking and sexual assault throughout the state.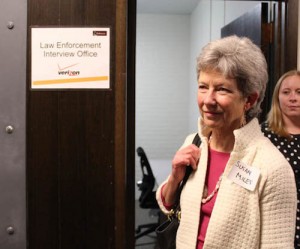 Judge Susan Miles tours the new Law Enforcement Interview Office at the Tubman East Legal Services Center.
The grant from Verizon HopeLine supports the Law Enforcement Interview Office and the Interview Observation Room. These rooms will provide victims a comfortable and safe place to ease the investigation process while providing video and audio technology to law enforcement during the interview process to collect evidence that is admissible in court.
Although still under construction, the Tubman East Legal Services Center will include offices for Tubman staff advocates, attorneys and interns, along with space for law enforcement from 18 jurisdictions, city prosecutors, pro-bono attorneys, partners and others to work directly with clients. It will also feature a legal resource library and conference room. Each year Tubman provides direct services to almost 40,000 women, men, youth and families who have experienced relationship violence, elder abuse, addiction, sexual exploitation or other forms of trauma.
For more Verizon Wireless news, subscribe via RSS feeds in the right rail.