Kentucky High School Students Speaking Out Against Violence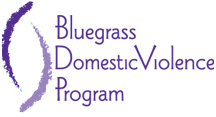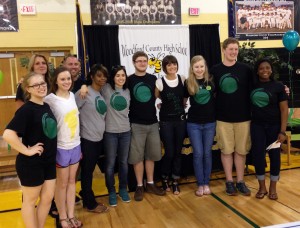 While most high school students are gearing up for summer vacation, more than 1,000 teens at Woodford County High School and Frankfort High School in Kentucky are undertaking another ambitious endeavor—promoting safe dating behavior and preventing power-based personal violence (PBPV) in their schools and communities. In looking to promote change, the Kentucky students speaking out against violence are taking a proactive approach to a very serious problem.
Funded by a $25,000 grant from Verizon, the Bluegrass Domestic Violence Program is providing Green Dot training to local high school students passionate about making a positive change in their communities by stopping PBPV. PBPV occurs when a person uses power, control, threats, intimidation or harassment as a way to harm someone.
The intensive two-year program teaches individuals how to properly challenge the tolerance of violence within their communities and serve as a positive influence to their peers. Training at the high school level is especially important because it reaches teens at a time when they are shaping relationship behaviors that will carry over into their adult life.
As part of the program, students attended a 50-minute motivational presentation and participated in an all-day leadership training session. These sessions were followed by support meetings, student body activities and teacher education sessions, all for the purpose of inspiring students and staff to join the cause.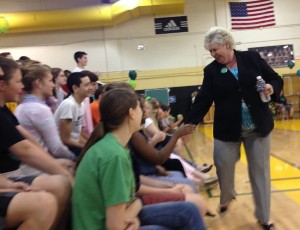 At a pep rally and news conference held at Woodford County High School, some students who participated in the Green Dot program shared their experience with the rest of the student body:
"Before participating in the Green Dot training session, I wasn't aware that power-based personal violence was a problem among students. So many people see it happen and either don't know what they are seeing or just don't do anything about it. Through the Green Dot program, we can better understand what is happening and how we can stop it. For me and probably many other students, our eyes were opened and we can now do something to stop power based personal violence," said junior Greg Watson.
"It made me realize that it happens a lot more often than people think. More than one of my peers at the training from Woodford County High School had been affected by it. It was shocking to find out that stuff like that is happening right here and most people wouldn't know what to do about it if they found out," said junior Ben Henson.
"Participating in the Green Dot program has definitely made me more aware of power based personal violence around me. I have learned ways to detect it, especially when it is not so obviously seen. It is a much bigger issue than a lot of people think. I personally have realized that many teens are pressured and taken advantage of daily—people I know, people I care about," said Abi Weber, also a junior.
"All throughout driving school, I was warned never to think 'it couldn't happen to me,' and I never was the type to think that when it came to my driving. But that didn't hold true to my thoughts on PBPV. After my Green Dot training, my eyes were opened to instances of PBPV around me. I've taken steps to change the way I do things and interact with others to be more sensitive to them," said sophomore Noah Smith.
Attending the event on behalf of Verizon Wireless was Kentucky Strategic Sales Director Marion Nolan, who has helped collect more than 20,000 used phones for HopeLine® from Verizon. HopeLine turns used phones into grant support opportunities for domestic violence treatment and prevention.
"Collectively we have the power to change the perception of violence and spread positive change within our communities," Nolan said. "It's encouraging to see young members of society step up and speak out against violence-related issues. By continuing to encourage and empower younger generations to get involved, we're promoting healthy, violence-free relationships for generations to come."
For more Verizon Wireless news, subscribe via RSS feeds in the right rail.