Kodable Creators Make Coding Fun for Kids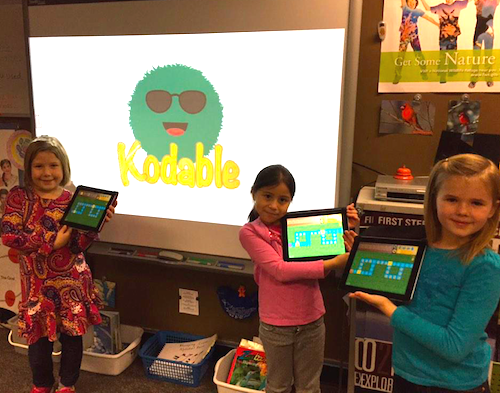 It's not unusual today to see very young children using smartphones and tablets, sometimes demonstrating fairly advanced keyboarding skills. But a new app from Kodable is teaching children as young as five to code before they can even read. The intuitive Kodable game is a fun, self-directed way to learn programming, while enhancing problem solving skills, computational thinking and more.
App creators Grechen Huebner and Jon Mattingly say the app makes learning fun by having students direct their fuzzy character through a maze. We caught up with the pair to find out more.
How did you come up with Kodable?
Grechen: We were at the University of Louisville, working on an idea for an online marketing startup and the conversation kept turning to learning to code. Many of the people we spoke with had young children and saw programming as a valuable skill for their children, but didn't know where to go with it.
Jon actually learned when he was six years old. I taught myself how to code in college. I saw that programming does open doors, but it's easier to learn when you're young.
Kodable creator Jon Mattingly.
Learning when you're younger is one thing, but why is it so important to get kids started before they can even read?
Jon: Children can learn and pick up things easier. Coding involves thinking in logical steps. Research shows thought processes are harder to develop as we get older, so early learning is a real advantage. Here are five reasons to teach your kids code.
Anyone can download the app on their iPad or computer, but where is Kodable being used in schools?
Grechen: Kodable is used in over 100 countries. We continue to develop relationships with schools across the country in Kentucky, California, Texas, Pennsylvania, North Carolina, Oregon and even Canada.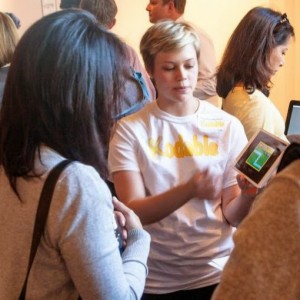 Kodable creator Grechen Huebner demonstrates the app.
What do you think is the future for early education and learning on tablets?
Grechen: Tablets are a great tool for early elementary school children; we expect more educational programs to be developed. There are different demands on the workforce today than ever before. Schools need the tools to produce 21st century citizens.
Do you have any other projects in the works you can tell us about?
Jon: Our focus is on Kodable. The program is now available for your laptop or desktop computer, making it more accessible to people. Next up is Kodable 2. It is aimed at teaching older kids how to code. We are focusing on giving kids in 3rd through 5th grades more freedom to create. We expect to begin testing it in the spring and release it before the next school year.
How did your time in Louisville influence your work now?
Jon: That's where Grechen and I met, so without UofL this may not have been possible. I always knew I wanted to start a business and I already knew how to code. The entrepreneurial business program at UofL showed me how to put it all together and get started.
Grechen: I studied communications and learned about marketing and branding. Our education definitely influenced how Kodable turned out. We understand how the narrative kids experience influences their choices. We wanted to make a product they will enjoy and relate to.
For more Verizon Wireless news, subscribe via RSS feeds in the right rail.