Meet the Blogger: Betsy Moats From The Everyday Warrior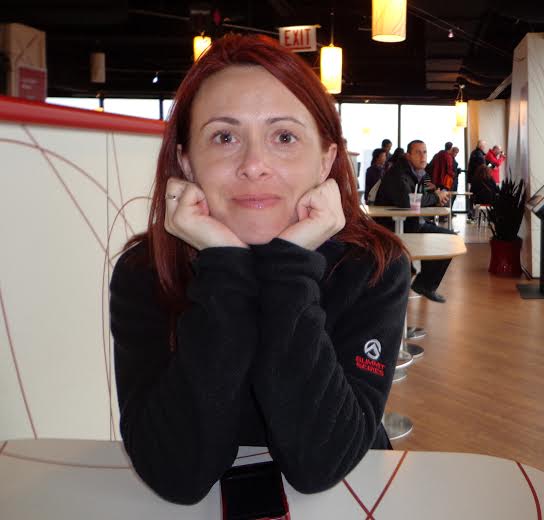 For this installment of our Meet the Blogger series, we chatted with Betsy Moats from The Everyday Warrior.
Give us a brief description of who you are and tell us about your blog.
My name is Betsy, and I consider myself to be an everyday warrior. I do not have any experience in "warfare" in the traditional sense, but I have certainly had my fair share of battles throughout my life, as well as the ones we all face on a daily basis. As an everyday warrior, I wear many hats including: mother, runner, mud run addict, country music lover and blogger!
I blog at The Everyday Warrior, which is primarily a health and fitness blog where I share the ups and downs of my training, racing and other things fitness related. You will also get peeks into other parts of my life because there is way more to me than just running. The purpose of my blog is to encourage people to find ways to be active, fit and become the best possible person they can be!
What's your favorite part about being a blogger?
Hands down the best part of being a blogger is all the connections I have made. Because of my blog, I have met a lot of great people and have become friends with people who I otherwise never would have met. Some of these people are health and fitness bloggers themselves, and some of them are people I met through social media platforms like Twitter or Facebook. If you are interested in meeting people in your niche, I highly recommend blogging as one way of doing that!
What's one of your favorite blogging moments?
Last year about this time, I was contacted by Verizon and was invited to become part of their Health & Fitness Voices program. I honestly thought they had contacted me by mistake as I had never been approached with that type of opportunity before. It was a great experience and something I will always treasure.
What's your one "can't live without" app?
Outside of the normal social media type apps, my favorite app is called Photo Grid. I use it all the time to make picture collages that I then post to Instagram and my blog. It is easy to use and a great tool for sharing several pictures at one time.
If you could interview one person for your blog, who would it be and why?
Since I am into health and fitness, you might think I would pick an athlete to interview, but you would be wrong. Without question, the number one person I would want to interview is Garth Brooks. My dad loved country music and he loved Garth Brooks even more. I lost my dad at a very young age and listening to Garth makes me feels connected to my dad, so to have the opportunity to interview Garth would be an amazing experience for me!
How long have you been reviewing Verizon devices and services, and what are a few of your favorite Verizon devices and why?
I have been reviewing Verizon devices and services for just shy of a year now and I have enjoyed every minute of it! My favorite phone is the Moto X. I just love everything about it, from the look and feel of the phone to how user friendly it is. If I had to pick just one phone to have for the rest of my life, that would be the one!
One of the most fun accessories I got to try out was the Galaxy Gear. If you haven't tried it, you really need to. You will be amazed at how much you can do with that watch, and as a bonus, it will make you feel like a secret agent!
My favorite tablet is the Samsung Galaxy Tab 2. It is lightweight and easy to carry everywhere. It's also super fast!
The device I am currently reviewing is the Samsung Galaxy Camera and I am in LOVE with it! It not only takes great pictures, but it also lets you share them immediately on your social networks because it's connected to the Verizon network.
What's a good personal motto to live by?
"If it scares you, it might be a good thing to try." - Seth Godin
I have determined that if something intrigues me and scares me all at the same time, it is probably something worth pursuing. That mindset is the reason I became a mud runner and it is the reason I have decided to run my first marathon in 2016!
Who influenced you most, and how did that lead you to blogging?
When my son was younger, I enrolled him in a program for toddlers. Through that program, I met a woman named Jackie and her daughter. My son and I had an immediate connection to them and as my friendship with Jackie grew, I learned she was a blogger. She has many sites, but the one I was first exposed to was WritRams, where she shares funny stories about parenting. After reading her blog for awhile, I decided I would start a blog as a way to chronicle my son's early years as I had not been doing a very good job updating his baby book. As time went on, I began blogging more and more about running and fitness and although I still talk about my son from time to time, my blog has become a full-fledged health and fitness blog.
Make a prediction about technology based on where you'd like the world to be 10 years from now.
One of my favorites cartoons as a kid was The Jetsons. So more than anything, I would like to say our world would look like that. We will all have our own Rosy to take care of the house, a flying car that folds up into a briefcase and everything can be made with a push of a button!
For more Verizon Wireless news, subscribe via RSS feeds in the right rail.