Meet the Blogger: Heidi Gray from Save More Spend Less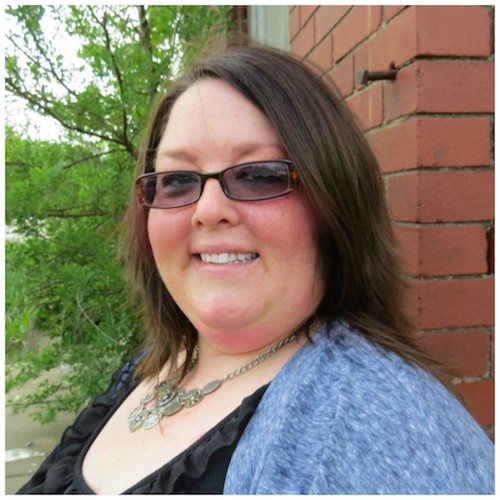 For this installment of our Meet the Blogger series, we talked with Heidi Gray from Save More Spend Less (SMSL). Heidi's blog is the perfect one-stop-shop for any mom on the go – she has tech reviews, recipes, money saving tips and all the giveaways anyone could ask for! We wanted the inside scoop on how this busy mom of a teenage daughter stays on top of everything.
(Disclaimer: Verizon loaned Heidi a Jetpack to help keep her connected on the go.)
Let's start with a little background: Tell us about you and your family.
We are a family of three. Our 16-year-old daughter, Elizabeth (Liz), is an only child who is very active in Future Farmers of America (FFA), softball and school activities. My husband, Brady (a.k.a. Mr. SMSL as he likes to be called) works on our farm and helps with anything that needs done for family and friends. While I'm a certified elementary school teacher, I am currently a blogger by day and supportive wife and mom by night!
Save More Spend Less with Heidi has an incredible following. When and how did you start your blog?
Save More Spend Less with Heidi was born back in 2009 when I lost my teaching job due to budget cuts. Since I was unemployed, I wanted some kind of hobby while looking for a new job.
First, I dove head first into couponing and saved $10,000 in the first six months! I was able to build up a stockpile of essentials my family used on a daily basis while saving big time. I didn't start a blog right away, but I had a Facebook page and an experienced blogger contacted me and gave me some advice on how to get started. Before I knew it, SMSL with Heidi, which launched as a blog focused on saving money, had evolved into a lifestyle blog.
Now I am a full time blogger and virtual assistant, which essentially involves using my couponing background to teach people about saving money.
What does a typical day look like for you? You have a lot to juggle as a busy wife, mom and blogger.
I'm fortunate enough to be able to work from home, so my days always start with breakfast with Liz and my husband. After they get out the door, I spend roughly eight hours a day working on my own website. Then I turn my focus to my virtual assistant clients. From there, my wife and mom duties are back on. Nothing beats sharing a family dinner where we can all get caught up on each other's days.
You're always on the go! What key features do you look for in your smartphones and tablets to make sure you're always connected?
My mobile devices are true lifesavers – working from home (and on the road) is nearly impossible without great technology! For me, my smartphones and tablets have to include the following:
Great camera: Device cameras have come a long way in recent years, and taking pictures is a quick and easy way to add character to a blog post. I also love devices with built-in editing software, so I don't have to wait until I'm back at my computer to get my pictures blog-ready. Some of my favorites are the Samsung Galaxy S5, because of the crystal clear photo quality, and the LG G3 because of its easy-to-use features.
Memory: Having a large amount of memory space, and the ability to use my own memory card, is a great feature, since I'm constantly snapping photos for my blog.
Apps: I couldn't imagine working on the go without them! My most commonly used apps are Wordpress, Facebook and Twitter, voice recorder and games for downtime, especially while I travel. Things like Flashlight app, Google Drive, Netflix, and of course, Amazon Kindle, are also on my list of must-haves anytime I'm out and about.
Verizon service: Having access to a reliable network is a must! I've had other wireless service and nothing else compares to Verizon in my opinion! I also love using devices like the Jetpack, which enable me to have WiFi whenever I need it.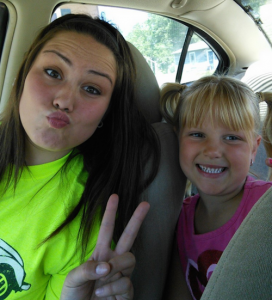 Heidi's daughter Liz took a selfie with a Google Nexus 7.
What about your daughter, Liz – does she have a favorite tech toy?
Liz occasionally gets involved in the blog, so she does get to play around with some of the devices I review. She likes to help me with photographs and "behind-the-scenes" work, and of course, makes occasional appearances on the website as a model. She's a big fan of taking selfies, so anything with a cool camera grabs her attention right away. Liz's favorite tech toy, at least for now, is her iPhone. But she's like me – always looking for ways to upgrade!
What would your #1 tip be for someone who wanted to start using technology to save money?
My #1 tip to start saving money with mobile technology is to remember everything you need is right at your fingertips! Downloading apps like Retail Me Not is a quick and easy way to get started. Mobile tech is an amazing way to make sure you're always getting the most bang for your buck.
For more tips from Heidi, connect with her on Twitter @savemrespendles.
For more Verizon Wireless news, subscribe via RSS feeds in the right rail.