Meet the Blogger: Jesse DePinto of Stay At Home Nerd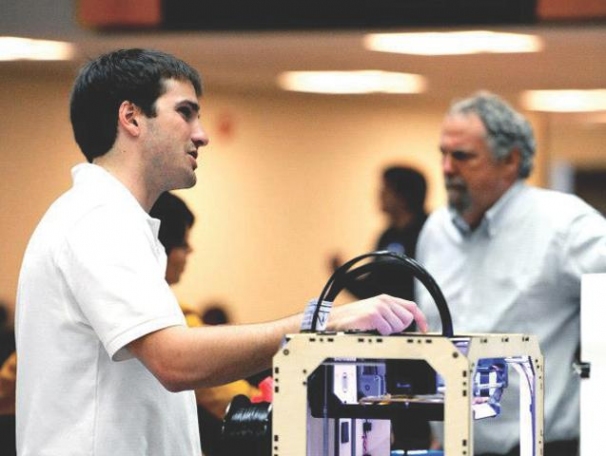 For this installment of our Meet the Blogger series, we chatted with Jesse DePinto from Stay At Home Nerd, who lives in Milwaukee, WI.
Give us a brief description of who you are and tell us about your blog.
I'm Jesse, the Stay At Home Nerd. I'm obsessed with new technology trends, such as 3D printing and the Internet of Things. By day, I do product development for the aerospace industry. Outside of that, my main hobby is converting my house into a "smart house."
I saw a need for an unbiased blog— part Apple, part Android—to sort through the numerous gadgets on the market and provide meaningful, intelligent reviews for each one. Stay At Home Nerd is meant to excite and inform people on the best products and companies behind the Internet of Things movement.
How long have you been reviewing Verizon devices and services? What are a few of your favorite Verizon devices and why?
I've been reviewing Verizon gadgets for the past three months, and it's been an incredible experience. When I first started my blog, I reviewed products that were lying around my house, purchased with my own money. As you can imagine, I eventually ran out of gadgets to review, which is why Verizon is such a valued partner for Stay At Home Nerd. The best part is I can be completely honest about my experience, which allows my blog to remain 100% unbiased.
What's one of your favorite blogging or Verizon review moments?
Reviewing Verizon's Belkin WeMo Switch. I set it up to be a night light, so whenever my wife or I get out of bed (to go to the restroom, for example), the light switch illuminates our path. I also decided to try to make it a "digital scarecrow" for burglars. Periodically, the light is programmed to turn on for 15 minutes, even when I'm away from home, to make people think someone is inside.
The funny part is, I forgot to mention this to my wife. One night, she was in the shower when nobody was home, and the light turned on mysteriously! She was terrified; she thought for sure someone was in her room. So funny!
Which devices are you carrying now and what do you like about them?
I just upgraded from the iPhone 4s to the Samsung Galaxy S5 and I couldn't be happier. I love the level of customization the Galaxy S5 provides. The specs (16MP camera, 4K video, 2800 mAh battery) can't be beat, and there are some other great features, such as Ultra Power Savings Mode.
Who influenced you most, and how did that lead you to blogging?
Elon Musk. Elon is the closest thing today to Henry Ford; he is revolutionizing an industry by forming an untouchable business model around consumer behavior (with Tesla, specifically). Not to mention the great things he's doing with the SpaceX program. He influenced me to dream big; my blog is just a baby step to accomplishing my dreams.
If you could interview one person for your blog, who would it be and why?
I'd give anything to have been able to interview Steve Jobs. It sounds cliché, but Steve Jobs truly understood consumer preferences better than the consumers themselves.
What's your favorite part about being a tech reviewer?
I love getting to play with all the newest, coolest gadgets! It's a dream come true to turn my hobby into a business.
Follow @StayAtHomeNerd on Twitter, and "Like" Stay At Home Nerd on Facebook.
For more Verizon Wireless news, subscribe via RSS feeds in the right rail.