Meet the Blogger: Aaron Traffas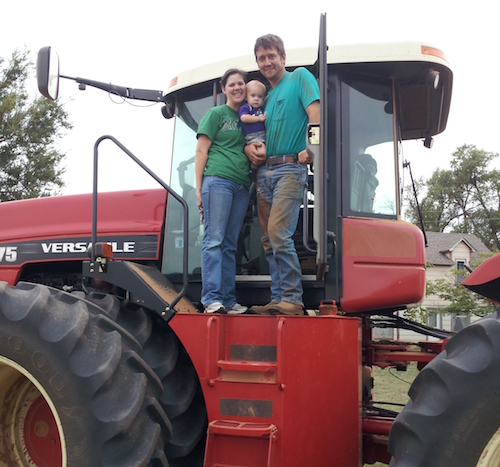 For this installment of our Meet the Blogger series, we talked with Aaron Traffas from aarontraffas.com and auctioneertech.com. One of the busiest guys we know, Traffas blogs about science, politics, skepticism, auctions, music and technology from south central Kansas. He also stays busy playing in the "Aaron Traffas Band" and keeping up with his six-month-old and three-year-old sons, Callan and Nolan.
You've got so much on your plate – farming, blogging, music, tech writing – so let's go back to the beginning. How did you get started in farming?
I grew up on our family farm in Medicine Lodge, KS. Especially during the wheat harvest, I was working on the farm all the time, helping my dad in any way I could. This was my primary time commitment throughout school (aside from some odd jobs in technology – more on that later!) until I moved to Manhattan, KS, where I attended Kansas State University (KSU) pursuing a degree in animal science. That's where I found part-time work with Purple Wave, an auction service, and got involved with auctioneering.
Have you been working with Purple Wave ever since?
Pretty much! While I was a student at KSU, I worked as their part-time tech guy, primarily working on their website. After graduating, I stayed in Manhattan and began my full time work for the company. Before I knew it, I was working as an auctioneer, managing the facility and helping with its marketing efforts. I got involved nationally, through the National Auctioneers Association and started AuctioneerTech.com as a place to connect my love for technology to the auction industry.
After nearly 10 years in Manhattan, I moved back to Medicine Lodge to take over the family farm, but still work for Purple Wave remotely, primarily creating content and managing their non-traditional marketing.
It's clear you love to bring your technical expertise to everything you do. How did you fall in love with technology?
While I was in high school, it was difficult to keep a traditional "after school job." Anything with set hours was off the table because I never knew when I'd come home from school and have to drive the tractor for my dad or help him fix some of the farm's machinery. I didn't want to give up the opportunity to make a little cash, though, so I looked into small jobs I could do on my own time.
I started building and selling computers as my side job because technology was something I found to be incredibly interesting. It was the perfect way to make some extra cash while also having complete control of the timeline so I could keep up with things on the farm. It was a win-win!
Where does blogging fit in to all of this?
I actually owe my entrance into the blog space to my love of music. In the early 2000s, blogs were the way musicians shared their stories and kept up with one another – keep in mind this was before social media had taken off! As a musician, part of my morning routine was to hop online and check in on my music buddies who were touring across the country. That's when aarontraffas.com got its start. It was my outlet for my adventures on the road as I started touring as a singer-songwriter.
My writing became more serious in 2008 when I became more active in auctioneering and started auctioneertech.com to share my insights about technology in the auctioneering industry. Finally, in 2010, my role for Purple Wave evolved to include more writing, as well.
You have such a diverse background! What does a normal day look like for you now?
Currently, I'm still working for Purple Wave, but have taken on a more remote role so I can dedicate time to the family farm. Mornings start early – I aim to be out the door by 6 a.m. – and work can keep me out as late as 10 p.m. Farming's all about managing your time and working with Mother Nature. During wheat harvest, my father-in-law comes to help me drive the wheat truck, but the rest of the year, I'm a one-man-show out here.
I'm also keeping my head in the game when it comes to technology by trying as many new phones, tablets and gadgets as possible and sharing my experiences on aarontraffas.com and auctioneertech.com. I'm also happy to be working with some great musicians as the Aaron Traffas Band enters its 10th year.
Aside from all this, you have two little guys at home. How do you and your wife, Diane, juggle work and family?
Callan (six months) and Nolan (three years) definitely keep us on our toes. Diane teaches third grade not too far outside of Medicine Lodge, so her schedule allows her to dedicate some significant time to keeping up with the boys. She also blogs, using them as her inspiration, on dianetraffas.com and does an incredible job holding things together at home as I fly in and out the door for work. Of course, the family time we spend together is wonderful, and I love watching Nolan start to learn little things about the farm. My work and travel schedule can make things challenging at times, but somehow we're managing to make it all work!
For more from Aaron, connect with him on Twitter @traffas.
For more Verizon Wireless news, subscribe via RSS feeds in the right rail.