Meet the Blogger: George Price From Pendleton-Gazette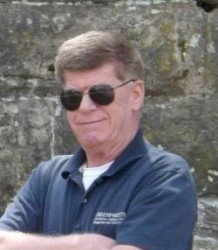 For this installment of our Meet the Blogger series, we chatted with George Price, who publishes the Pendleton-Gazette, an online-only news site in Indiana. He loves sharing technology with his readers and spends a lot of time shooting video with Verizon Wireless devices so his readers are kept up to date, including when the threat of severe storms are in his area. Here is Price's take on what a digital newspaper should be doing with technology today and why his Hoosier readers love tech news.
Give us a brief description of who you are and your online presence as a leading source of news in Madison County.
My first experience with the world of technology came about while I was engaged in the automobile insurance industry in the early 1980s. The industry was moving rapidly into technology. Not to be left behind, I became the proud owner of one of the first home computers sold — a Timex Sinclair. From there it was a Commodore 64 and not long after that, Microsoft introduced Windows 3.1. I was hooked.
As time passed, my interest in technology led me to want to know — how was AOL getting all that information online? At that time, everything was dial up.
Not long after that, in the early 1990s, I introduced one of the first online news sites in Madison County. That online presence was a DOS-based bulletin board. The software I used was called WildCat BBS. It allowed people to dial in and set up chats, play games and get local news updates.
A few years after, I left the bulletin board software company (it was purchased by another group). They made it possible to move from a DOS-based bulletin board environment to one of the first Windows-based, dial-in websites in this part of Indiana. Not only was I then hosting a true website with photos, I was also hosting online email.
Times have certainly changed. And technology has changed dramatically.
In 2008, I decided that the online presence I had been working on for several years was not really a newspaper, although I had referred to it as one. Even in the early days it was never my intention to have a paper publication. After all, who's going to buy their news in a printed form when they can get the same information faster on their computer?
The Pendleton-Gazette has become one of the local go-to sites for news and breaking weather. Today, not only are we publishing online videos, we're also able to share news in an almost real-time, streaming-video format, thanks to the tremendous advances in technology. It wasn't all that long ago that the ability to do these things was something only large, corporate news organizations like CNN and other network news media sites were capable of doing.
What's your favorite part about being a tech reviewer?
Tech is what makes what I do possible, and better tech is what makes things work better and faster.
The very first review I did for Verizon Wireless was on one of the company's newest 4G LTE smartphones. At that time, I was still using a 3G phone. It didn't take me long to figure out that 3G was history and the new 4G LTE from Verizon Wireless would make a lot of what I do so much easier and faster.
I'm not one to ask myself — is that possible? My questions and searches have always been — how do I make that possible? And being one of Verizon Wireless' Midwest tech reviewers has helped me answer a lot of those questions.
What kinds of responses do you get from your readers about wireless technology?
Mostly what I get from people who I show the demos to is what I call the "Fourth of July Response," which is Hoo-ah! And there is a lot of woo-ing and ahh-ing. Seriously! That's the response I most often get.
What's one of your favorite blogging or Verizon review moments?
It has to been opening the box. While I usually know what's arrived, I'm still like a kid at Christmas when something new arrives.
What's your one "can't live without" app?
It's not really an app — it's the camera in my smartphone. It wasn't all that long ago when I'd go out to do a news video and I was packing a 10-pound camcorder, a 10-pound tripod, a DSLR that weighed several pounds plus some other gear. Today, I'm most often doing what it took more than 20 pounds of equipment to do with a device you can put in your pocket. And the icing on the cake is I can now share those news stories, photos and videos as they happen.
Which devices are you carrying now and what do you like about them?
Shortly after my first Verizon Wireless review, I became the owner of a Samsung Galaxy Note 2. Love it! The Samsung Galaxy Note 2 does it all. This pocket-sized device is my on-the-go computer, camera and camcorder, plus my communications device all rolled up in a package. Even though it can handle all of that it weighs less than a half-pound. Nice!
What are a few of your favorite Verizon devices and why?
This is a tough one. Each device, in its own way, has been unique in what it offers today's consumers. Everything I've had the opportunity to review from Verizon Wireless has been a delight because just about every device has offered something another one did not.
So let me answer this question by talking about a couple of nice surprises I've had.
One of the big surprises I have had since reviewing devices from Verizon Wireless was the Nokia Lumia 822 Windows smartphone.
When I received it, I thought it was not going to be much fun. I could not have been more wrong. This Windows-based smartphone was a solid, well thought out device. Being an Android user, it took me a day or two to get up to speed on the Windows operating system. But once I did, it was a pleasure to use. The Windows operating system is one of the easiest of any smartphone I've encountered to date to customize. The Nokia 822 did all the things other operating systems can do — and does them very well. And the camera in the Nokia 822 was nothing less than amazing.
The next device was maybe my toughest review to do. When I was told I was getting a smartphone made by Casio, I said: "Isn't that the people who make watches?" What I received was a Casio G'zOne Commando. What smartphone today can you think of that's guaranteed to survive 26, four-foot drops, immersion in three feet of water for up to 30 minutes and is dust and vibration resistant? That makes it the perfect phone for that teen in your family or anyone else who works or plays hard. It is one tough smartphone.
What's the personal motto you live by?
Don't ask — is that possible? Ask — how do I make that possible?
Make a prediction about technology based on where you'd like the world to be 10 years from now.
Ten years from now smart devices will be driving your car. It's highly likely that in some large metropolitan areas, smart devices may very well be doing just that. It's possible.
For more Verizon Wireless news, subscribe via RSS feeds in the right rail.