Meet the Blogger: Kevin Harvell from STLTechTalk.com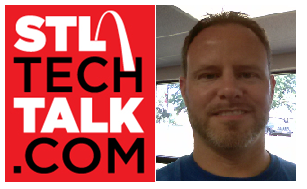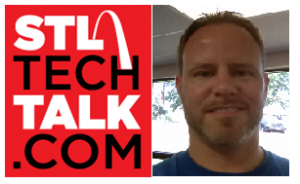 As part of our "Meet the Blogger" feature, today we'd like to introduce you to Kevin Harvell (@STLTechTalk), owner an editor-in-chief of STLTechTalk.com.
Give a brief description of who you are and what you do.
My name is Kevin Harvell and I am a St. Louis native. I've been married for 11 years and have four children (three step, one biological), including one with special needs. For over 14 years I helped build Dodge Rams and Chrysler mini-vans for the Chrysler Corporation before accepting a buyout in November 2008. I currently work full time in the IT field at a local independent Catholic School and part time as editor-in-chief for STLTechTalk.com. I love mobile devices, baseball, local craft beers, Beatles music and burgers.
How did you become interested in technology?
I have been fascinated by technology ever since my uncle let me play the old Mattel Electronics Football game with the bright red dashes when I was about 4. It was so addictive! My parents then got me an Atari 2600 which led to the Nintendo Entertainment System and so on.
Why did you create your blog?
I started my blog as a way to share thoughts and opinions with people in the St. Louis region and help them get the most out of their mobile devices. What's the point of buying a smartphone, with a monthly data plan if you're just going to use it to send texts or check Facebook? There are so many different ways that mobile devices today can help make our lives more productive and efficient. I enjoy telling people how they can use them for more than "liking" photos. My goal with STLTechTalk.com is to gradually work on it full time so that I can provide people with more information while teaching how to get better use from the devices.
What's your favorite thing about being a tech blogger?
My favorite thing about being a tech blogger is the conversations I get to have with people that are passionate about mobile devices. Whether it's a Windows Phone, Android, iPhone or BlackBerry, there is something out there for everyone and I like helping to open people's eyes to what each different platform can offer them. Another nice perk is being able to try all of the latest gadgets for free so that I can provide better content for my audience.
What's your one "can't live without" app?
The one app I can't live without would have to be SwiftKey. SwiftKey is a keyboard app available in the Google Play Store for Android devices that allows users to type text in whatever way suits them best. From my experience, SwiftKey has the best text prediction that learns over time what you are likely trying to say. You can also swipe your finger around from letter to letter to "type" what you want to say. There is voice input for speaking your text and also the regular letter by letter typing that all the other devices allow you to do. There is no other app on your phone that you use more than your keyboard, so why be limited with how you can use it?
If you were stranded on a deserted island, what Verizon device or accessory would you want with you and why?
It would have to be the Samsung Galaxy Note 2. With the Note 2, you get that large 5.5 inch display for watching videos. An S-Pen for drawing pictures to help pass the time and access to Google Play Music All Access to listen to almost any music out there.
Where do you predict technology will be 10 years from now?
It is very tough to say. I never imagined being able to have such powerful devices fit in our pocket that allow us to take gorgeous photos, play music, watch videos, call friends and family members, keep us from getting lost and play games the way they do. But when I see products like Google Glass, I know that we will only be limited by our imagination. I can definitely see cars becoming available that will drive themselves, without causing accidents, hitting the roads allowing us to be more productive while commuting to and from work.
What's your favorite part about living in the Midwest? St. Louis?
My favorite part of living in the Midwest, and St. Louis in particular, is the fact that we are centrally located in the United States. We can just as easily get to Los Angeles as we can New York City. St. Louis is really starting to pick up speed in regards to jobs involving technology, and we do have some very brilliant people here with some great ideas. Plus we have the St. Louis Cardinals; it does not get any better than that right?
Thanks for letting us feature you, Kevin!
For more Verizon Wireless news and stories from Missouri, subscribe via RSS to news by state.