Roadtreking With Mike Wendland: Chatting Food & Tech With eatPGH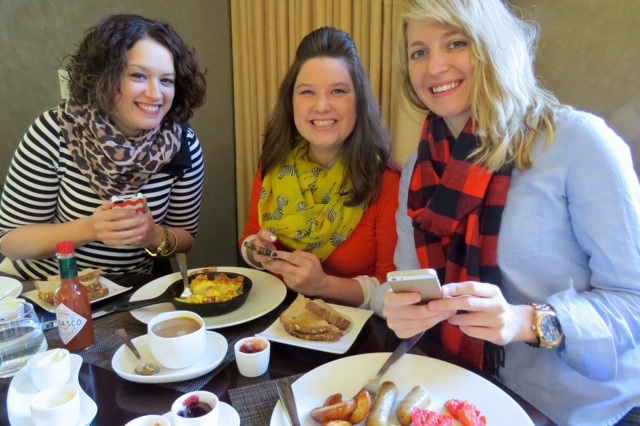 I love stories about how technology has allowed so many people to live out their dream and create truly useful services about things that directly relate to our special interests.
And I found one of the best examples of that in Pittsburgh, where a quartet of women in their early thirties have used wireless technology to leverage their love of good food and restaurants into a website, a series of cookbooks and very innovative community dining experiences.
They call it all eatPGH, and starting with a blog of the same name, Laura Zorch, Sarah Sudar, Julia Gongaware and Amanda McFadden have become media stars and huge influencers in the Pittsburgh dining community.
I had an opportunity to have brunch with three of them (Laura was unavailable that day) and found my stereotype of foodies shattered. Maybe from watching too many of those cooking shows on cable TV I expected they'd be food snobs, fighting personal weight problems and extremely disdainful of what I'd choose to eat.
We met at the Habitat, a trendy downtown restaurant in the Fairmont Hotel. My first surprise was Julia, Sarah and Mandy (as Amanda likes to be called) were all fit, attractive and possessed of wickedly delightful senses of humor.
Still, instead of ordering what I'd like, I began by getting their suggestions of what I should choose from the menu. Mandy recommended the corned beef hash. Sarah thought I'd like a skillet dish topped by melted cheese. Julia said her favorite food was a cheeseburger.
I instantly liked these women. They like and eat real food.
All have been friends for many years, some from high school, some from college. All have day jobs with area companies where they work in public relations and communications.
They started the eatPGH.com blog about four years ago just because, well, they like food and eating out and thought it would be fun to share their experiences with other people.
"We are not food critics," said Mandy. "We're food lovers. We write about what we like, the best dishes, sometimes the décor and atmosphere. We are very excited about food and are amazed that so many people are paying attention to what we're reporting."
Between the four of them, they have visited hundreds of area restaurants, gotten some of the city's best chefs to share their favorite recipes in their cookbooks and restaurant guides and organized an amazing Urban Supper in which they transformed a downtown parking lot into an intimate outdoor eating space for 50 people who enjoyed a seven course gourmet meal, excellent local beer and wines and great camaraderie.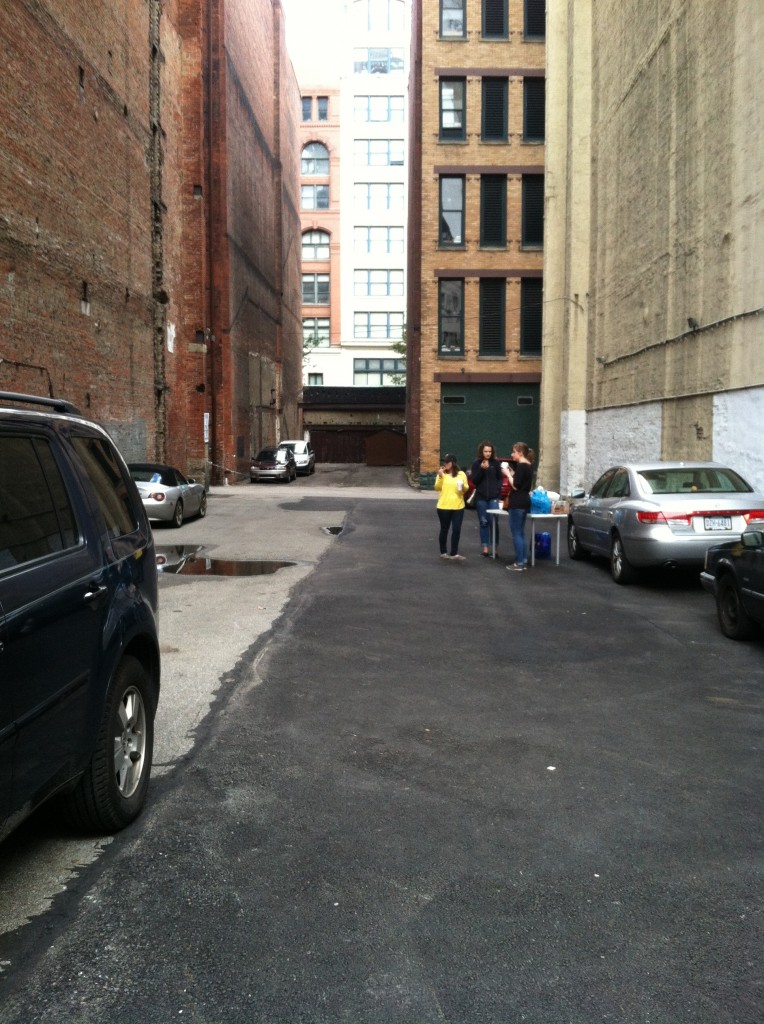 The eatPGH women chose this downtown parking lot for their first Urban Supper community event (Julia Gongaware photo).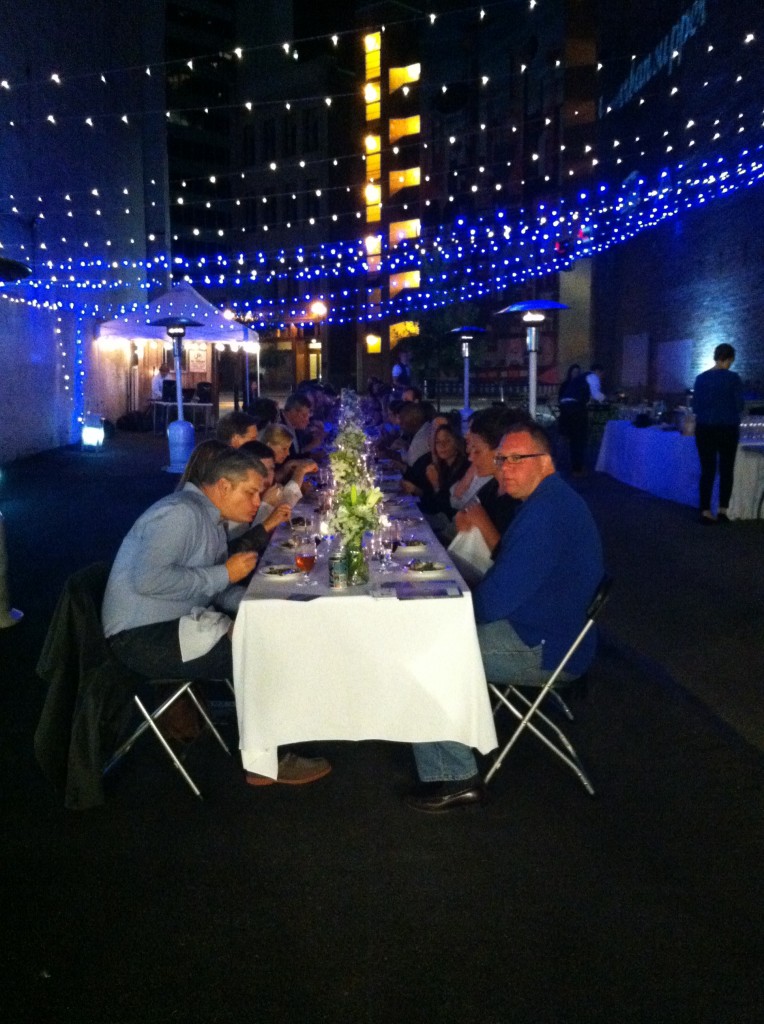 Some 50 people dined on a seven course gourmet meal after the parking lot was transformed into an intimate outdoor dining room (Julia Gongaware photo).
How popular are they? They've been all over local media. They were invited to share their story at the prestigious South by Southwest (SXSW) film, interactive and music conference in Austin, TX. Other cities have asked them to come visit and experience their food scene, and more than 12,000 people follow their every word on Twitter.
"We are huge users of social media," says Julia. Indeed, as she was saying that, Mandy was tweeting about our meeting and Sarah had her iPhone open answering a Twitter question from someone who wanted to know whether they needed a reservation at a place they had written about a few days before.
All love the blazingly fast Verizon 4G LTE network. They tweet as they eat, these three, often sending photos to Instagram and Facebook of their latest finds.
"I don't know how I got along without 4G LTE," says Julia, a longtime Verizon Wireless subscriber. "We may update the blog two or three times a week. But we are using wireless to update our social media followers all throughout the day."
Online friends and followers send them questions, as well as tips about dishes and new places to try.
"It's a two way street," says Sarah "We're all connected, us to our readers, our readers to us."
Technology is the glue that makes that connection. They have found a niche that fits their personalities perfectly. They have plans for more books. More Urban Suppers. Maybe exploring the food scenes in more cities. Maybe, just maybe, someday quitting their day jobs to be full time foodies.
But their hearts are firmly anchored in Pittsburgh, a vibrant comeback city that has developed a truly unique food scene with great eating seemingly around every corner.
For these eatPGH foodies, there's a new dish always waiting to be tweeted.
Disclosure: While Verizon Wireless compensates Mike for the stories he reports from his travels throughout the Midwest about how technology enhances our lifestyles, all opinions and content are directly from Mike, not Verizon Wireless.
For more Verizon Wireless news, subscribe via RSS feeds in the right rail.