#MittenTrip: How the Awesome Mitten Team Uses Mobile Tech to Stay Connected on the Road
#MittenTrip: How the Awesome Mitten Team Uses Mobile Tech to Stay Connected on the Road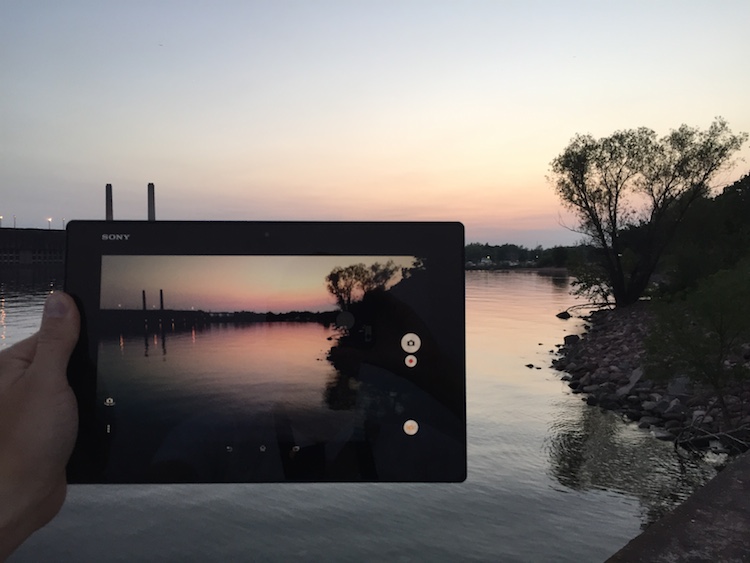 We recently teamed up with Awesome Mitten as the Technology Sponsor for #MittenTrip—a three-month journey across 12 Michigan cities. Today, Erin Bernhard, managing editor at Awesome Mitten, shares how her team of Mitten Lovers are using tech to stay connected and give readers a firsthand look at what there is to see and do in each destination. Disclosure: We loaned Verizon devices to Awesome Mitten for #MittenTrip.
Wondering why you might take the plunge into the tablet, Jetpack or VivoFit zones? If you travel, these devices make it even easier to stay connected wherever you are. Here's how tech came in handy during my recent #MittenTrip to Detroit.
Get your work done even in unforeseen circumstances: Even the shortest road trip can be tripled when your car breaks down! With the Verizon Jetpack and Sony Xperia tablet, I was able to get back to work from the passenger seat of my Jeep while waiting for the tow truck to arrive. It's impossible to plan ahead for an emergency repair, but having devices like these on hand will ease your mind while keeping you focused on work while you wait.
Ready for our #MittenTrip adventure in #PortAustin! Big thanks to @Verizon for keeping us connected. #vzwmidwest pic.twitter.com/AgtekrDCMr

— The Awesome Mitten (@awesomemitten) July 3, 2015
Keep track of your fitness: I often lament lack of exercise and increased food and libation intake, which usually makes me feel like I need to "get back on track" after vacation. That said, I know I spend a massive amount of time walking when I travel–far more than I do when I'm at home. While wearing the Garmin VivoFit during my #MittenTrip, I was able to look down and see just how much I was moving, which made my second helping of ice cream on the last sunny day of vacation a little bit easier to swallow.
Yesterday we burned a ton of calories exploring the wild side of #MackinacIsland. @Garmin #vivofit #Vzwmidwest pic.twitter.com/pOZmkkSbpX

— The Awesome Mitten (@awesomemitten) June 14, 2015
Ensure you're able to check the news: While on the road during my #MittenTrip, I felt more than a little disconnected from my home life. Oftentimes, one goes on vacation to "get away," but we all know your number of social media posts increase exponentially when you're exploring a new place. Devices like the Samsung Galaxy Note 4 make it quick and easy to check in between activities, keeping your head in the vacation game while reassuring you your house hasn't burned down.
Research your next move: Sometimes, life changes plans for you. When you're in a new city, it can be impossible to know whether the restaurant you're dying to try will have a two-hour wait, until you arrive starving and are forced to find the second-best bite in town. Want to access your handy list of must-see locations you've saved on Google Drive? All it takes is a couple clicks on the Samsung Galaxy Note 4 to pull it up – leaving you self-sufficient as ever and sending you on your way before you transition from hungry to hangry.
Rainy day in #Leland. Time to look @ pics from yesterday & make new plan! What should we do? #mittentrip #vzwmidwest pic.twitter.com/cdo2b2mlsS

— The Awesome Mitten (@awesomemitten) June 7, 2015
Make new friends: This may seem counterintuitive in this day and age when screens are constantly being questioned, but when you have a Jetpack in a bar with no WiFi, you become everyone's best friend. There's no better way to get to know someone than by commiserating about the lack of 21st-century standards, especially in places where alcohol is involved. I waited out the rain at Northern Lights Lounge during my #MittenTrip, and everyone there was glad I did.
What's your favorite device to have on hand while traveling? How do you use your Jetpack?
For more Verizon Wireless news, subscribe via RSS feeds in the right rail.