Mobile Apps Keep Missouri Sports Fans Connected to Favorite Teams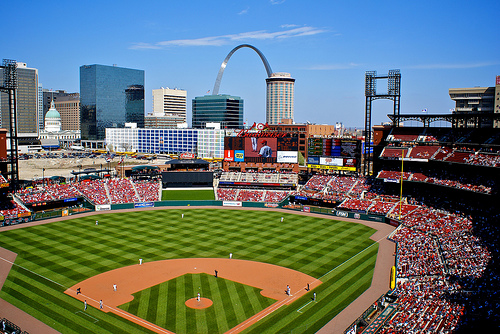 This is the time of year when sports collide – particularly here in the heart of the United States. The St. Louis Cardinals are on a march toward the World Series, the Missouri Tigers football team has launched its season with six straight wins and the Kansas City Chiefs have matched that record by starting the season 6-0. From border to border, it's an exciting time for Missouri sports fans!
But, for many fans, it's tough to find the time to take it all in. Work, travel, school and other time demands all compete for our attention. Luckily, mobile apps can make it easy for sports fans to stay connected with their favorite teams.
For St. Louis Cardinal baseball fans, the best mobile apps are MLB.com AtBat and the upgrade version, MLB.com AtBat 13. The free version lets you view stats and highlights of every game and stream audio broadcasts from your favorite play-by-play announcer.
During post-season play, MLB.com AtBat 13 lets fans view the games in real time from 10 different camera angles, including the popular four-screen quad view. AtBat 13 is compatible with most iPhones, Android devices, Windows phones and the newest BlackBerry phones running OS 10. If you already subscribe to MLB.TV Premium, you can receive this added functionality on your mobile device at no charge.
For Kansas City Chiefs fans – and football fans in general – you can take the action with you every Thursday, Sunday and Monday night with NFL Mobile from Verizon Wireless. Football fans can get scores, stats and views of each of these games via their mobile devices. Plus, with the bonus NFL RedZone feature, you can watch EVERY touchdown from ANY game on Sunday afternoons. Again, NFL Mobile runs on nearly every smartphone.
Finally, for college sports fans, particularly those who want to follow Mizzou football at the same time they are tracking their professional sports teams, the iHeart Radio app or the popular TuneIn Radio app allows live audio streaming of nearly every game. Both apps are free and provide localized sports coverage from your favorite sports announcers.
Using mobile apps to keep up with current sports is easy, immediate and doesn't require a ticket to a game. It's a smart option for people on the go and a great way to enjoy the excitement of sports all season long.
Sending lots of luck to all our Missouri sports teams!
For more Verizon Wireless news, subscribe via RSS feeds in the right rail.