Mobile Tech Scores Best Supporting Role at 2015 Oscars Party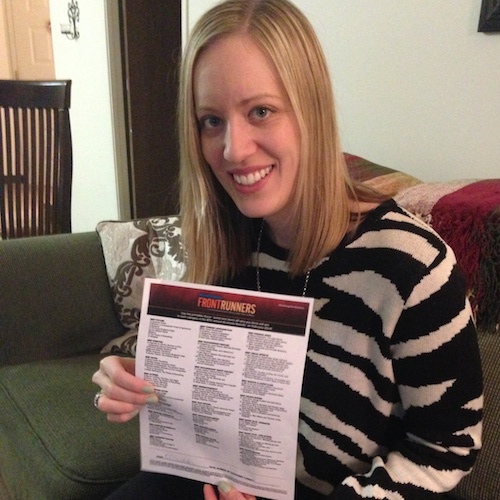 Self-proclaimed "celebrity junkie" Elizabeth Bacheson (@londonluxe) has always made it a point to watch the Oscars and revel in the entire experience—from the first red carpet arrival to when the best picture trophy is bestowed. While her dream is to one day attend the red carpet festivities in Hollywood, this year she stayed in "Hollywood of the East" (aka Pittsburgh, PA) and attended a fabulous Oscars party thrown by her friends, using mobile tech to follow the show. We spoke with Elizabeth after the Oscars on Sunday to learn about how her Verizon iPhone ended up being the perfect accessory to help her enjoy the evening.
Sounds like you always look forward to the Oscars each year. What did you do to celebrate this year's awards?
I attended my friends' 6th annual Academy Awards viewing party. As the invitation read: "It's everyone's favorite time of year when we judge people we've never met on their choices in fashion, hair, makeup and personal trainers as we promise to do no such thing to each other!" With a dress code of weekend lounge chic, guests were encouraged to wear our finest sweatpants and over-sized sweatshirts and/or cardigans. There was also a dinner and dessert buffet of movie-themed food based on the Best Picture nominees, which included menu items like garlic chicken drumsticks, inspired by Whiplash's young drummer with a very intense music teacher.
What did you do prior to the party to get up-to-date on all things Oscars?
Before the party, I downloaded a few smartphone apps, including Awards Guide and Fashion Police By E! Entertainment Television, Inc. Both are free on Apple. The Fashion Police app was fun to use during the show because it provided complete fashion coverage from the Oscars. Awards Guide was helpful in that it is a comprehensive database of every winner and nominee from the inaugural Oscars through this year's awards. It was really a one-stop-shop for everything I needed to know about this year's categories and nominees. I used the app to help me fill out an Oscars poll we had going during the party for a chance to win a prize – a golden (chocolate) statue! Unfortunately, I didn't take home top honors, but enjoyed making my predictions, nonetheless.
Does social media play a part in your overall Oscars viewing experience each year?
Definitely! While I like to keep an eye on Facebook throughout the night on my phone, I also like to follow the official #Oscars Twitter feed for all things awards commentary on my iPad Mini during the show. I also like to check Instagram, as many celebrities post photos of themselves getting ready, along with red carpet photos. The Academy also has an Instagram account to capture the action, which included a play-by-play of the entire evening. There was a lot of chatter on social media throughout the show. From distaste for Lady Gaga's red "dish washing" gloves to Joan Rivers being snubbed from the "In Memoriam" list to Patricia Arquette's acceptance speech—there was never a dull moment on the #Oscars Twitter feed.
Did you have any favorite moments from this year's show?
Lady Gaga's Sound of Music performance was unexpected and amazing! I loved that Julie Andrews made a surprise visit, too—those were definitely two of my favorite moments. There were so many other memorable moments. Seeing Idina Menzel have the chance to introduce John Travolta after he severely mispronounced her name during last year's show was pretty cute too.
Okay last question. Your pick for best and worst dressed?
That's a tough one. Best dressed for me was a toss-up between Jennifer Lopez's sparkly tulle Elie Saab gown and Gwyneth Paltrow's girly glam look that featured a blush pink dress with a giant rose on her left shoulder by Ralph & Russo. Worst dressed for me had to be Nicole Kidman in Louis Vuitton—the pearlesque shimmer of the dress totally washed her out and that red belt and treasure chest clutch? Yikes! It didn't quite work for me. Lady Gaga was a close second in terms of worst dressed—I, like most of Twitter, did not care for those red gloves!
For more Verizon Wireless news, subscribe via RSS feeds in the right rail.