Mobile Tech Tips to Help You Ring in 2015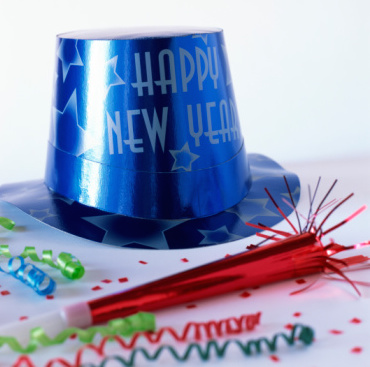 New Year's Eve parties with family and friends are one of the best ways to ring in the New Year! But hosting, or attending, can also mean stress as the party nears and to-do lists grow. As a guest or host, reaching for a few mobile tech tools can help ease the stress and allow you to enjoy the celebration of the New Year! Here's our mobile tech advice for New Year's Eve party planning:
Put the Party Plan in Place
If you're hosting a New Year's Eve bash, you're certainly not alone. Simple Soiree, an app designed by a professional event planner, can help you keep everything together. Organize your shopping and to-do lists, keep tabs on RSVPs, plan your menus and establish your plans for décor and entertainment, all in one place.
If this year's bash is a joint effort between friends, reach for apps like PitchIn, which helps you quickly and painlessly split up that long to-do list and notifies you when your friends have completed their tasks. Even if you aren't footing the entire bill, you can set up reminders for your guest and they can send money directly from the app.
Insider tip: "I recently hosted a party for more than 50 people, and the easiest way for me to keep track of RSVPs was through the Evite App," said Katie Garcia. "It sent me updates on RSVP counts and details on who had not responded. I was able to message those invitees to ensure we had just the right amount of food and drink."
Set the Mood
Don't be afraid to use colorful lighting like the Philips Friends of Hue Bloom Lamp. They change to more than 16 million colors so you can choose your favorite hues. Bluetooth speakers like the Jawbone BIG Jambox allow you to play music wirelessly from your phone, tablet or computer, making it easy to play the year's top songs as you move about the party. Don't forget to download Auld Lang Syne to play at midnight.
Eat, Drink and Be Merry
Food and drink are often the center of the New Year's Eve gathering, and deciding what to serve, or contribute as a guest, can be tricky. Wine can make a great gift for the host, and Hello Vino can ensure you always pick the right bottle. You're able to sort suggestions from the app's database by meal/food, occasion, taste and variety to pick the bottle that will match the menu.
Speakeasy Cocktails is the perfect app if you're playing bartender for the night, with tips and recipes from two world renowned bartenders. Pepperplate will ensure everyone is wowed by the food, whether you're serving apps, dessert or a four course meal. It allows you to gather recipes, make shopping lists and share your favorites with friends.
As you count down to midnight, games like Heads Up and Phrase Party! are sure to engage guests of all ages. Individuals or teams work to describe the secret word, getting their teammates to guess what it is.
Insider tip: "My friends and I host game nights throughout the year, and we always like to switch up party games. We tried out Heads Up at our last gathering and it was a hit, especially since we could use our mobile devices," said Jessica Leib, hostess with the mostess. "No one got blamed for forgetting cards or the board game!"
Stay Safe
Making sure you have a safe way home after a night out is particularly important. Responsibly track your drinks all night with IntelliDrink, which calculates your blood alcohol count as you input information and lets you know when you're no longer safe to drive. Connect with your friends via the app and watch out for each other throughout the night.
If you don't have a designated driver, you can schedule a cab ride using the app, or use apps like Uber or Easy Taxi, to make sure you make it home safely.
Hope those mobile tech tips help with your New Year's Eve planning. Wishing everyone a safe, happy and fun-filled celebration to kick off 2015!
For more Verizon Wireless news, subscribe via RSS feeds in the right rail.