A Modern Day Mozart: Learning How to Play the Piano With Tech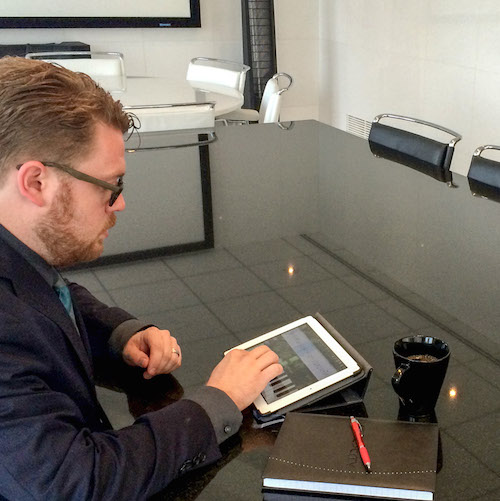 We spoke with Jason Heckman, technology blogger and solutions architect at Elias/Savion Advertising in Pittsburgh, PA about musicians and technology and how mobile tech is helping him achieve a long-time goal of learning how to play the piano. (Elias/Savion supports Verizon Wireless with PR efforts in Pennsylvania.)
Why did you want to learn how to play the piano?
I love music and I constantly have music playing in my head. I also have an insatiable desire to challenge myself to learn new things.
Which mobile devices and apps are you using to learn how to play?
I've been using an iPad 2 and an iRig Keys, which is a mini keyboard controller for the iPad. GarageBand and Synthesia have been really helpful apps. Synthesia helps you learn how to play the piano using falling notes, and you don't need to know how to read sheet music to start learning. It teaches you the muscle memory while you're learning to read the notation. Imagine Guitar Hero with a full piano keyboard.
What songs can you play?
I'm still learning at this point, but so far I can play a good portion of Adagio Sostenuto from Beethoven's Moonlight Sonata. I'm also trying to learn one of Chopin's Nocturnes. I'm proud to say I can also play some of the songs from Super Mario Brothers.
How often do you practice?
The best part about using mobile tech is I can squeeze in practice whenever I have time. Typically, it's when I have my headphones and I'm sitting and waiting for a meeting to start or for my plane to takeoff. The Verizon Wireless network really allows me to be able to download new songs to play from anywhere, which is ideal.
Do you think tech has made it easier to help you learn the instrument versus taking the traditional route of music lessons? If so, why?
Absolutely. With everything I have going on in my life—from my job to being a soon-to-be first-time dad— I would never have the time to schedule traditional music lessons. Using tech lets me pick up the device when I have time to play, and I am able to learn at my own pace.
Do you play any other instruments?
If it makes sounds, I'll figure out how to play it. I used to be in a band, so I play guitar fairly proficiently. I've also played (although admittedly not well!) drums, dulcimer, bass, banjo, recorder/pennywhistle, triangle, marimba, vibraphone, and some other weird instruments. Basically, if there's an object with musical potential, and the owner allows me, I'm going to try to make it sing.
For more Verizon Wireless news, subscribe via RSS feeds in the right rail.