Motorcycle Travels With Verizon Mobile Tech – Safe, Reliable and Connected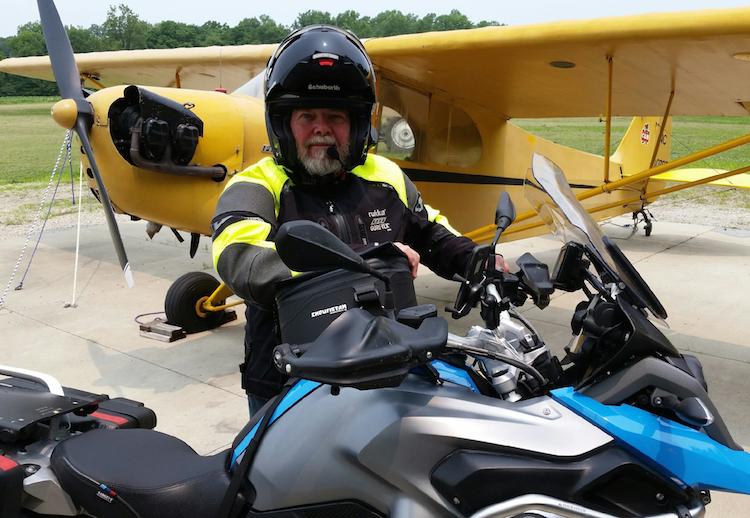 When Mike Williams was traveling solo on his BMW motorcycle to California, he was hit in the head by a large raven. Temporarily stunned with no vision, he found himself upright still on his bike going 85 miles an hour – throbbing head and sore neck. His first response? Still on the bike, he asked Siri on his Verizon iPhone to call his wife via the Bluetooth connection in his Schuberth C3 Pro helmet.
This forever Verizon customer has stories to tell from his trips and travel – among them: never settle for a lesser network. "Verizon works for me everywhere I go – and it always has. I've never thought of changing carriers."
Mike, a member of the BMW Motorcycle Club of Indianapolis, is a mechanic by trade who owns several BMWs and also flies vintage aircraft. He's been with Verizon "since the beginning." He owns multiple devices, Android and iOS, dabbling with different apps – but primarily uses his iPhone and iPad mini on the BMW. The Verizon 4G LTE network has always been a constant for this traveler, who enjoys the scenic hamlets along the Ohio River as much as he does the wildlife in the Mojave Desert.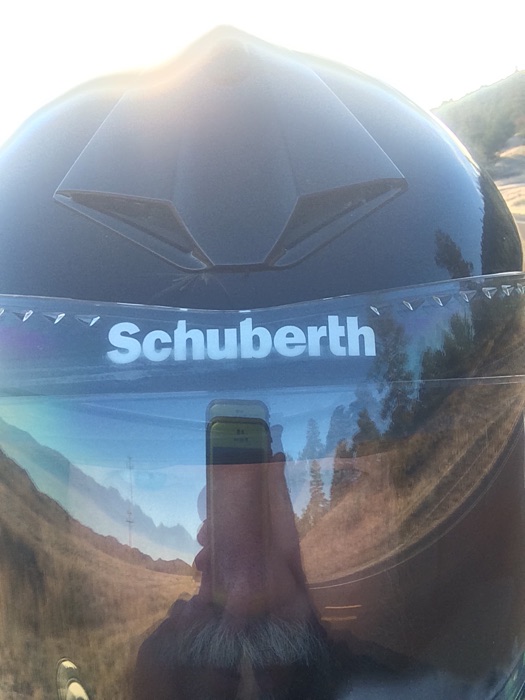 Mike relies on the Bluetooth connection in his motorcycle helmet.
"Last year I went via San Antonia to L.A. and back in seven days. The whole time I'm listening to music, making calls and answering calls and never dropped a signal."
That kind of reliability, and safety, makes a difference to this 61-year-old road warrior. He's navigated out of thunderstorms in the middle of backwoods Texas in the black of night, used turn-by-turn directions on his drives through rush hour Chicago and even taps his cell phone apps to create flight plans before he pilots a plane.
"Without a doubt" he believes it's smart to tie into a cell phone and other mobile tech on the road — especially for his longest one-day ride of 875 miles.
Mike's first cell phone was a Motorola StarTAC that came out in 1996. He's never changed carriers in all that time and says he likely won't as he continues to add new devices to his plan and upgrade with better plans and better savings.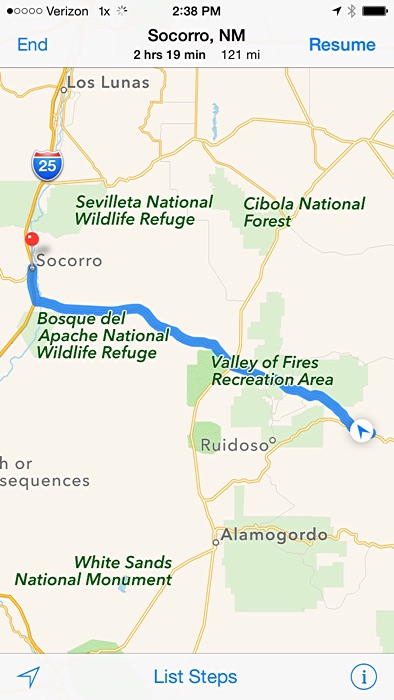 Mike maps his routes using his Verizon phone.
"Even as a pilot, I like having the cell phone with me to always be aware of weather conditions." He uses MyRadar, Yahoo Weather, Spotify and Pandora for Music, Apple maps and Torque, his latest addition, which lets him monitor engine performance.
On his next trip to Billings, MT for a BMW rally, he's trying out Route4Me, a navigation route planner to take the less traveled side roads with turn-by-turn directions using an Android smartphone.
Along the way, you can't beat the scenery on $25 a day for a tank of gas — and knowing Verizon's connected Siri is the angel on your handlebars.
For more Verizon Wireless news, subscribe via RSS feeds in the right rail.