My Experience at the Verizon Application Innovation Center in San Francisco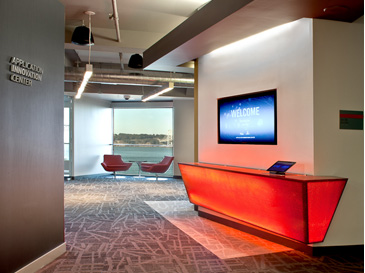 This is a guest post from Brad Sams, senior news editor for Neowin.net based in Cincinnati, OH.
When you hear the term "innovation center", you instantly get the picture of forward thinking ideas, concepts working toward reality and working outside traditional barriers to achieve the impossible. I recently had a chance to head down to Verizon's Innovation Center in San Francisco to see what the team was up to and find out what really is an "innovation center."
The cornerstone to Verizon's future plans, to no surprise, is its ambitious roll out of 4G LTE. While 3G brought high download speeds to cell phones, 4G LTE allows for broadband speeds on nearly any device. Thanks to Verizon's growing footprint, this can be accomplished all across the country.
What I learned while visiting the location is that Verizon sees 4G LTE as a platform and not a service. What this means is Verizon is providing API access to 4G LTE. By making Verizon's connectivity developer friendly with access to APIs, vendors can create a new breed of applications that respond faster, are always connected and deliver content when you need it, not when you request it.
But innovation is not about creating simply a platform; it's about installing this technology in hardware and new services. To that extent, Verizon showed me what I thought was by far the most ambitious aspect of its operation. Verizon offers floor space and testing equipment to third-party vendors for detailed testing and trial information they need to perfect their products with 4G LTE.
This space is a fantastic way for outside parties to get hands-on time and expert advice from Verizon about its platform and learn best practices to reach the full potential of 4G LTE.
Because of 4G LTE, we can begin to move away from having a home router. Reps from Verizon said they can foresee a time when wireless broadband is simply everywhere and running cables to your house to provide Internet will one day seem old-fashioned.
The idea is that as devices become more integrated with 4G LTE and the coverage is expanded to reach every last nook and cranny of the country, these embedded systems will now connect seamlessly to LTE rather than your home Wi-Fi.
For example, imagine buying a new TV that has 4G LTE built in. Rather than connecting to your home WiFi when it turns on for the first time, it simply connects to Verizon's 4G LTE network and is up and running out of the box with content already streaming when you first turn it on. Now apply this same concept to laptops, tablets and any other connected device. While the technology now exists, we are only beginning to see all the possibilities of broadband at every corner.
The Innovation Center in San Francisco is all about expanding the consumer and enterprise frontiers with products built on Verizon's foundation. With 4G LTE, not only are new possibilities surfacing, but they are being worked on at a furious pace by developers who can see the potential of this mobile high speed platform.
For more Verizon Wireless news, subscribe via RSS feeds in the right rail.