Tech Allows Student Scientists at Escuela Verde TransCenter For Youth to Work in the Field
Tech Allows Student Scientists at Escuela Verde TransCenter For Youth to Work in the Field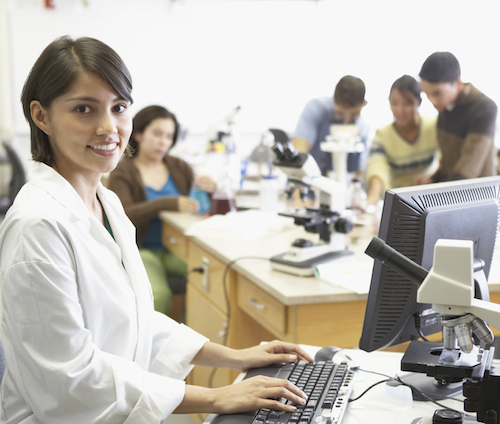 For students, understanding the world around them doesn't just start and end in the classroom. And for today's educators, new technology helps those students catalog, analyze and decipher their world in ways that can build future careers.
Student scientists at Milwaukee's Escuela Verde TransCenter for Youth are using technology while getting their hands dirty to build a powerful new experience.
Verizon recently awarded $20,000 grants to science, technology, engineering and mathematics (STEM) programs for three schools in Milwaukee. Supported by Verizon's Innovative Learning program, these grants will help expose students to science and technology in a new way, empowering them to consider science in a new light and as a potential career option.
This is Escuela Verde's story:
Building powerful new experiences for students.
The school's winning grant proposal was inspired by 2014 alumnus Ty Morton's senior thesis project, 'The Effects of Technology Used in Field Research on Students' Perceptions of Science." When reflecting on his project, Ty found that "overall, technology used in field research has helped monitor and track different things in our community. This helped students feel like they can contribute data for the greater good. This, in turn, has made more students want to be more involved in science."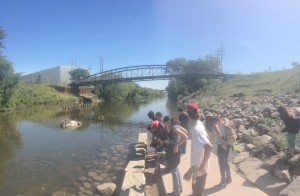 Escuela Verde students collect samples behind their new school building.
Verizon's grant will provide tools that will greatly improve the team's data collection process in field research, thereby improving end results and the overall experience for students. Offering technological advancements bridges a significant gap between science and urban youth, helping provide relevant preparation for future careers.
Importantly, though, the work and leadership provided by community resources and educators at Escuela Verde and with partners like Milwaukee's Urban Ecology Center provide the spark. Because of their partnership with Milwaukee's Urban Ecology Center and its citizen science staff, Escuela Verde's educators can build an experience that enhances student learning, impacts our community and even drives students toward considering the sciences as a potential career option.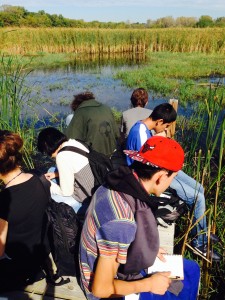 Students at Escuela Verde have the opportunity to study and take samples of water quality.
Students are in the field, using technology to study water quality of the Menomonee River and monitor bat populations in the Menomonee River Valley. They are also taking those studies and perspectives from the Menomonee River Valley and developing scientific comparisons through offsite visits to the Wisconsin River.
In the end, the student scientists will have an experience that comes full circle in a presentation of their findings to the public. Students from Escuela Verde will incorporate scientific tools that sync with their iPads, expanding the Research Team's capabilities.
The student scientists aren't stopped by Wisconsin's snowy winters.
Escuela Verde, a charter school authorized by the Common Council of the City of Milwaukee, is currently located in Milwaukee's Walker's Point neighborhood and enrolls 78 youth in grades 7 – 12. The school implements the EdVisions student-centered, project-based academic model with a focus on education for sustainability and social justice.
For more Verizon Wireless news, subscribe via RSS feeds in the right rail.