Nexus 7 From Google: Versatile Enough to Replace Laptop Computer?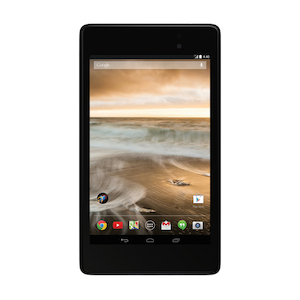 This is a guest post from Spencer Kane, a former professional sports commentator and radio personality who now resides in Columbia, MO with his family. He enjoys sports, music, literature, cooking and all sorts of new technology. But, he has never been a tablet user. Find out how Kane fares trying to integrate the Google Nexus 7 tablet into his everyday life.
I have always enjoyed new technology and would consider myself to be an early adopter when it comes to communications devices. Except in one area. I have never used a tablet before, assuming that anything a tablet could do could be accomplished by my trusty laptop computer.
When Verizon Wireless offered me the opportunity to test-drive the Google Nexus 7 tablet, I immediately jumped at the chance and decided to see just how it would fit into my everyday life.
I received the Nexus 7 on the Opening Day of the 2014 baseball season and decided this would be the first test. I opened the box, plugged in my Gmail address and Google backup password and instantly all the apps from my other Android devices began to download, including MLB At Bat 2014.
With virtually no problems at all, I was able to catch the first pitch of the Kansas City Royals vs. Detroit Tigers ballgame. Setup was decidedly easy, and the interface and function of the tablet were both smooth and clean. I was instantly impressed with the Nexus 7. (Not so with the Royals who lost in walk-off fashion right out of the gate.)
The tablet comes loaded with Android 4.4 KitKat - the newest and most powerful Android OS, and I had no trouble multitasking. I turned my attention to the movies and found I could zoom back and forth between "True Detective" on HBOGo and the IMDB app that confirmed Woody Harrelson and Matthew McConaughey DID do a movie together called "Surfer, Dude" in 2008. That movie was terrible. The tablet was great.
I also discovered that due to the screen size, the Nexus 7 is very well-suited for reading of all kinds, from e-books to my Feedly RSS newsfeeds (and I get the accompanying pictures). The display is vibrant, and the tablet is lightweight and easy to hold. And both the battery life and thin profile make it abundantly more portable than my laptop.
Perhaps the feature I liked most was the "OK, Google" voice search. I used this function in the kitchen while my hands were covered with ingredients that did not lend themselves well to electronic device interaction. I checked for the correct amount of cumin, not cardamom, in my recipe and "OK, Google" gave me the answer without a trace of sour cream on the Nexus 7 screen.
I'm a Google/Android user, so the Nexus 7 was perfect for accessing all my music in Play Music. All my contacts and calendar were right there when I signed on, and I was able to access all my important documents on Google Drive. I even indulged in my secret addiction - Tiny Death Star (not so tiny any more). The Nexus 7's big screen made it so much easier to find that pesky Luke Skywalker.
When my clunky old laptop finally dies, I am thinking I won't replace it. The Nexus 7 is such a powerful tablet, it might just be my all-the-time go-to for everything I do.
"OK, Google. What's next?"
For more Verizon Wireless news, subscribe via RSS feeds in the right rail.